Hi there enjoying spring? It's Mr. Wada on duty! It will soon be a good season for early-summer camp. There is a place to grant my wish to go camping and sightseeing at once. This time I will share how you can do it in Miyajima!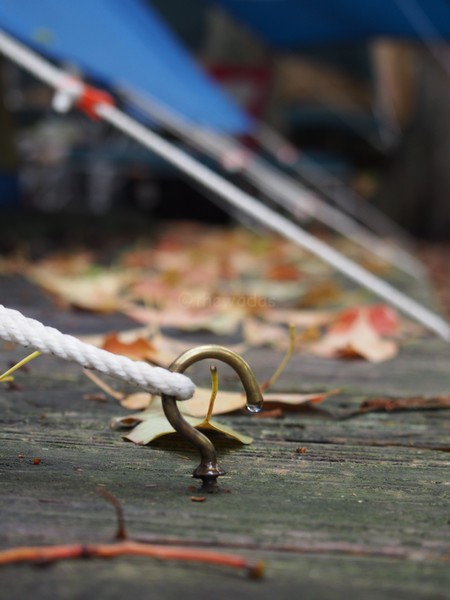 About Miyajima
It's one of the three great views of Japan (Matsushima in Miyagi Prefecture, Amano-Hashidate in Kyoto Prefecture, and Miyajima in Hiroshima Prefecture). The other two are sorta hard to access since these are far from cities. However, Miyajima won't give you a hard time.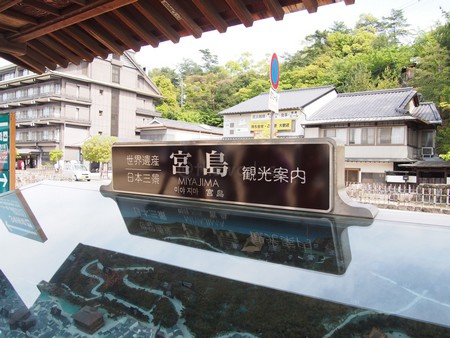 Access
Get to the Miyajima ferry port
Accessible by either car or train.

Train:
The nearest station is JR Miyajimaguchi Station.
Car:
There are many parking places near by. One at the port costs 1,000 yen for a day.
Take the Ferry
Ferries to Miyajima leave every 10 minutes. Get a ticket (180yen/one way) and bon voyage!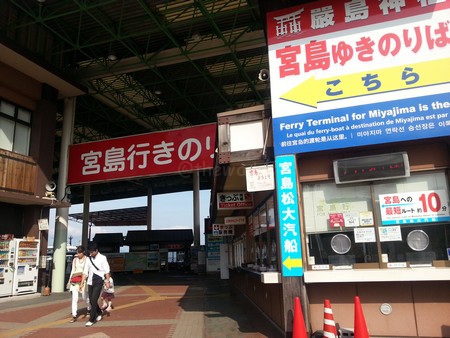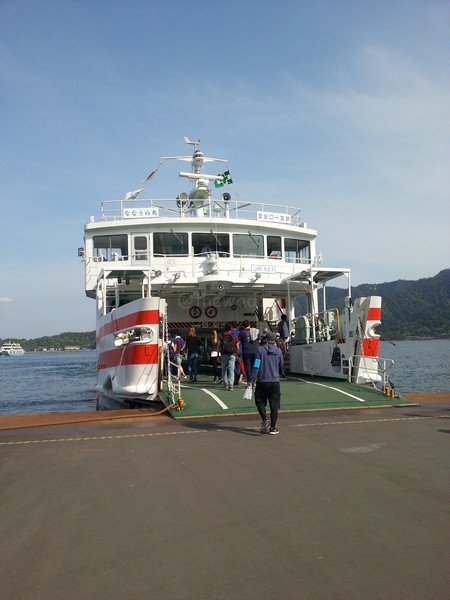 Reference : Access | Miyajima Official Website – Japan
It's actually only a 10-minute ride to Miyajima. What you see towards Miyajima first from the ferry would be the Great Torii (gateway at the entrance of Shinto shrines) on the sea. It is a symbol of Miyajima.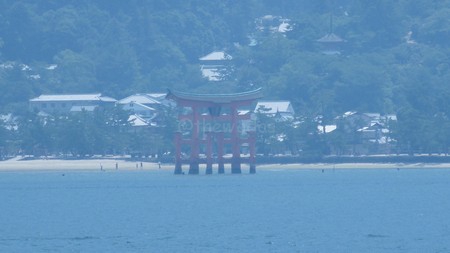 Welcome to Miyajima
As landing Miyajima, deers will welcome you. No worries, they are gentle and friendly.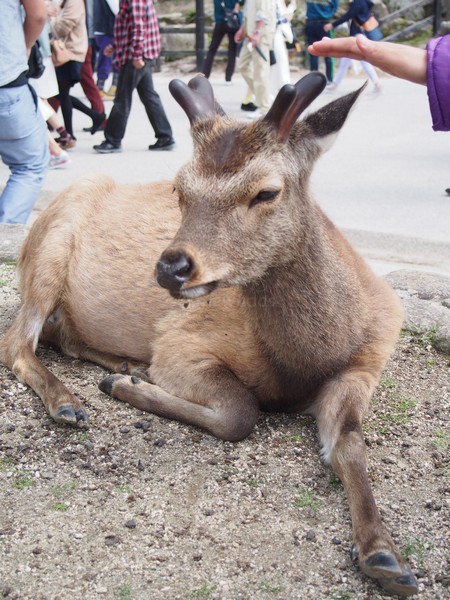 Say hi and pet them.
Now what to see in Miyajima? OK, check the following.
Main Street
After saying good-bye to the deers, walk towards the Great Torii/shrine that you saw from the ferry, there is a shortcut, but why not pass through the main street of Miyajima? There are many stores on this street. Take a look and and perhaps come back later for getting souvenirs.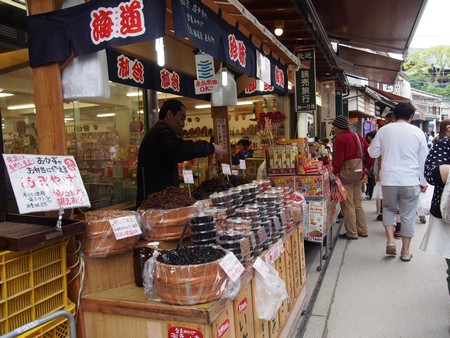 Fresh oysters – look quite yummy.
The Great Torii
You are at the end of the shopping street. Now you see the Great Torii right there. It is a part of the Itsukushima Shrine but since it is built 200 meters away from the shrine itself, we can access it without entering the shrine. When the tide is low you can go down and walk around it. It really depends on what time you get in there.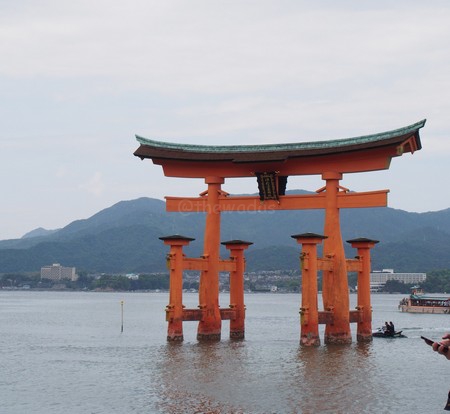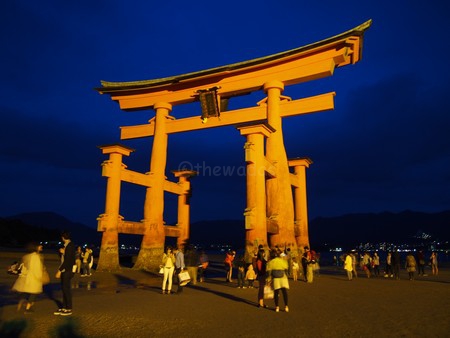 Comparison of during high tide and low tide.
Itsukushima Shrine
I'm not explaining its history etc here. Even if you aren't into shrine & temple stuff, simply checking out the view from the shrine is quite something.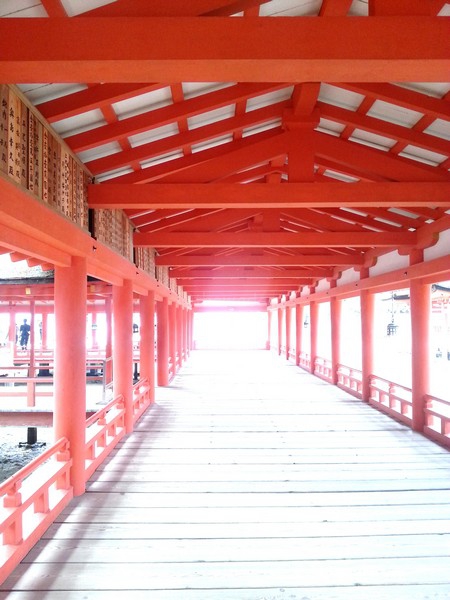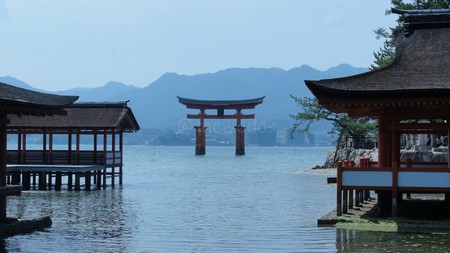 How to Access the Camping Area
There is a camping area (kinda on the other side of the island). It'd be a good way to see the Great Torii when the tide is both high and low. Although it's a 40-minute walk from the ferry port.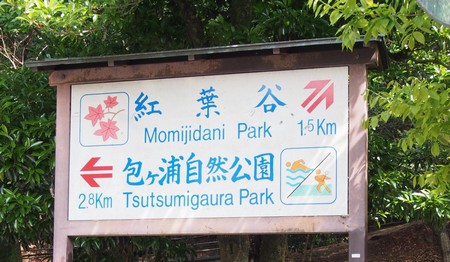 2.8Km…!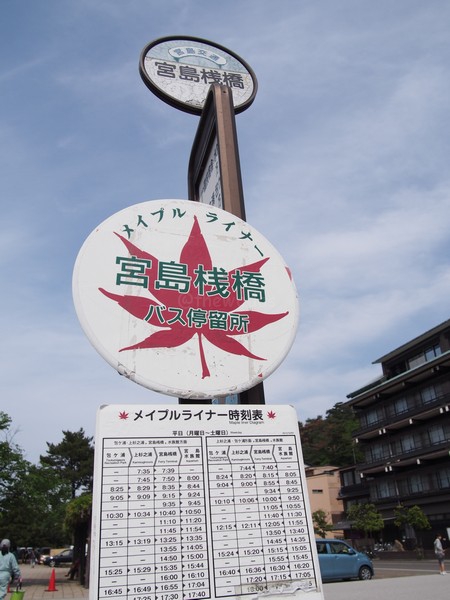 No worries, there are buses also.
Check-in
Get to the camping area? Check-in and pay fees at the reception.
Note: I strongly recommend to reserve in advance. It would be busy especially during the holidays.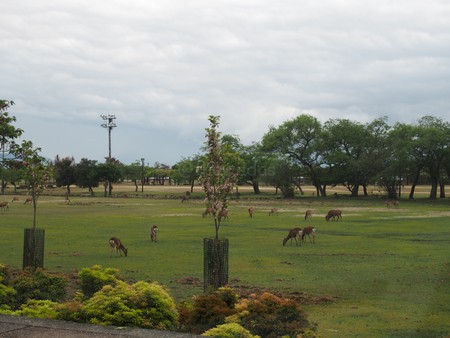 There are deers everywhere!
Facilities
This place offers a ready-to-use tent (already set up!). What you need to bring is a sleep bag/blanket.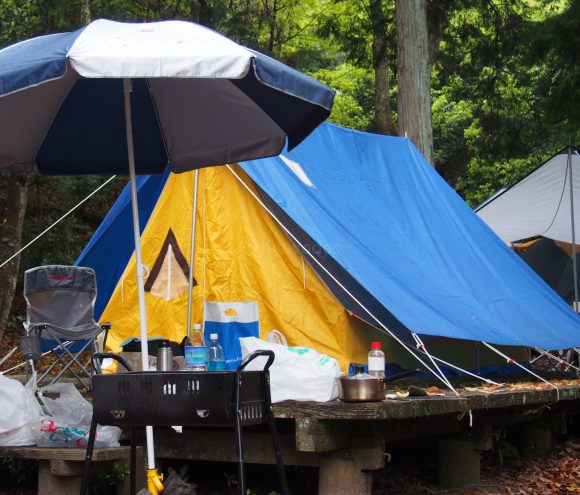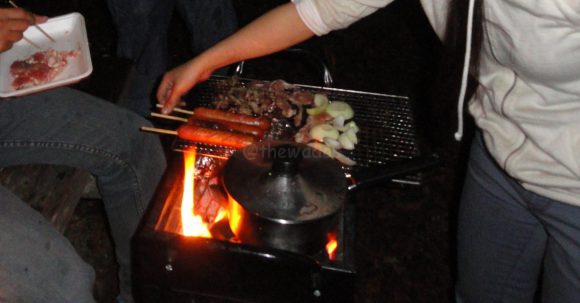 Note: BBQ set is also available for rent (if you need). Pretty cool, isn't it?
Fees
A rental tent costs from 2,100 yen (for 4 people). Since it's run by the city, it's such a good deal!
Reference: Camp Sites and Cabins | Miyajima Official Website – Japan
Lastly
Aside from these places, there are also Miyajima Aquarium and cable cars to the mountain. Please try camping in Miyajima if you get a chance and lemme know how it goes. See you around!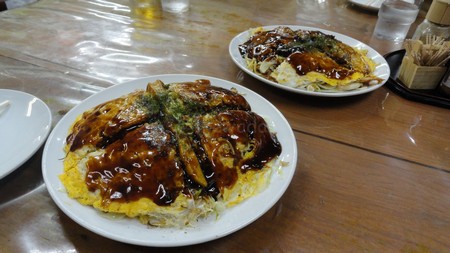 Hiroshima-style Okonomiyaki – a must try!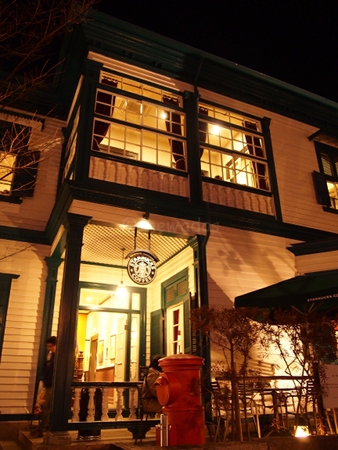 Not long time ago, I happened to see a TV show featuring one of the Starbucks stores in Japan having a really nice view located just beside the river and a bridge. Upon checking the Starbucks Japan's website for more details about it, I learned that there are more stores like these throughout Japan. They call it "Starbucks Concept Stores", each store has something special either by its location and/or its design.
In this post, I'll be featuring one of these store locations which I personally visited. Here it is.
This Starbucks store is located in "Ijin-kan" area in Kitano, Kobe.
The term "Ijin-kan" refers to the former residences of early foreign settlers in Japan. There are many of these Western-style residences in this area.
This Starbucks store is one of those residences.
History of the Place
This two-storey building made of wood was built in 1907. It suffered a huge damage during the Great Hanshin Earthquake in 1995 but later on reconstructed with the assistance of the government.
Now, enough of the history and let's check out what's inside.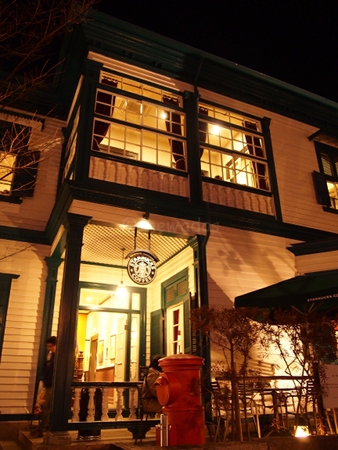 There's a mail post and a terrace just in front of the store. A very nice area to have your drink during a sunny day while watching people pass by. By the way, that red mail post you see there is an old-style one and you don't usually see it around these days here in Japan. The new design has a shape of a box.
Inside The Store: First Floor
Upon entering, you'll be immediately greeted by a red-carpeted stairway on the left and on the right is the way to the counter and a lounge.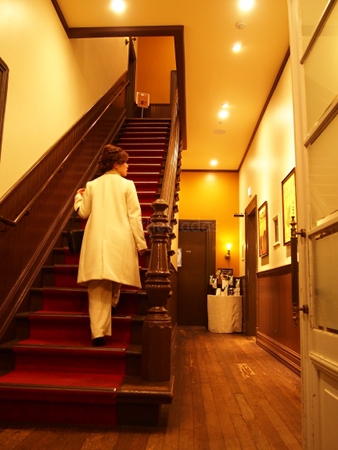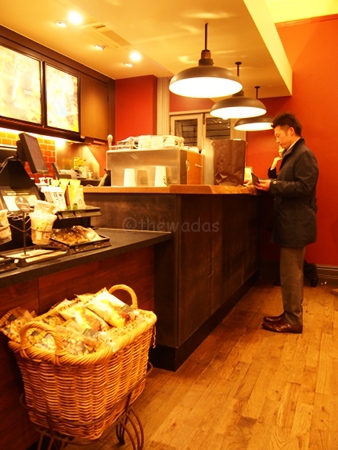 You can order your drinks and food here and take your pick of seat on the first or second floor.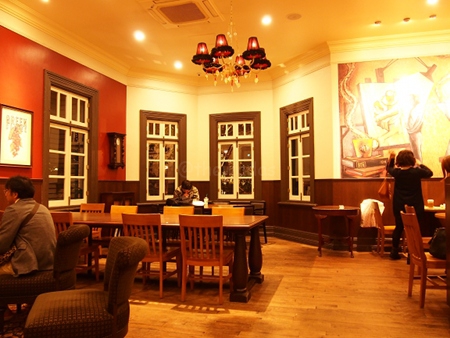 What a nice chandelier up there! A spacious area to accommodate a number of people. Now, feel the ambience.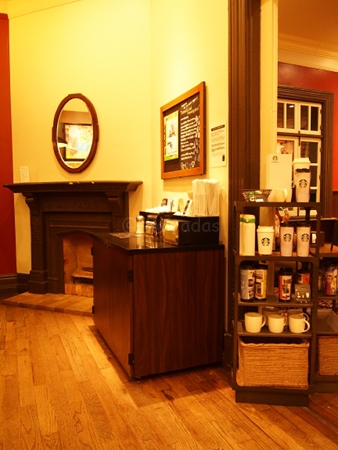 I just realized there's a fireplace in the first floor after checking this photo. It's right across the counter area.
Inside The Store: Second Floor
After climbing up the stairway, on your right you'll see a room (picture below) filled with framed photos on the wall. I forgot to check what's in those photos.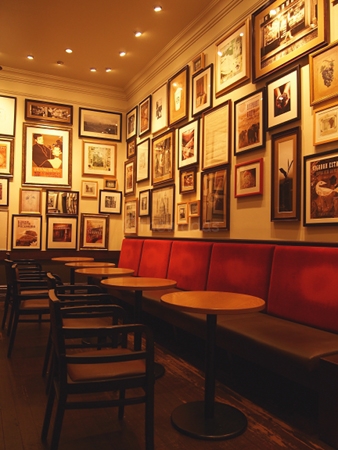 There's a door on the right side of this room leading you to the next room pictured below. See the door on the left? That's the door from the previous room.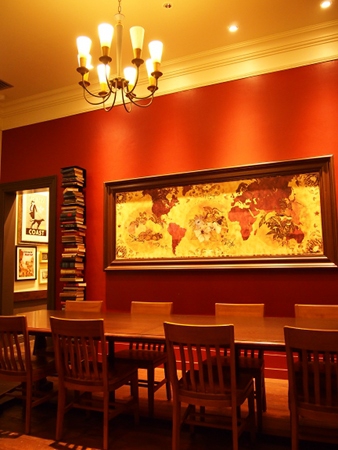 Another room with a chandelier. It looks like a library with those books piled up there, a classy one. Beside the long table, there's a couch on its right side.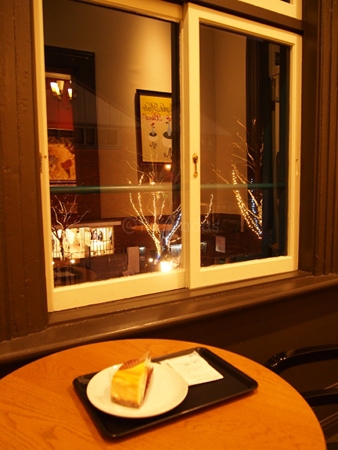 What's with seats near the window? Can't resist taking the spot to enjoy the view from there.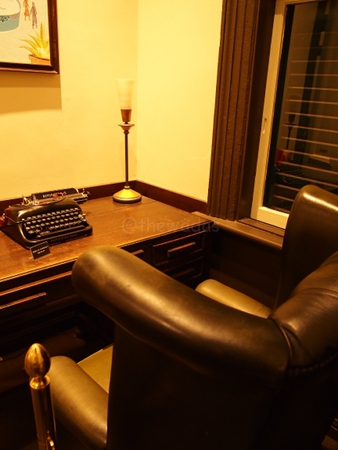 Just behind where we sat is this restricted small area with a comfy seat and a typewriter. Now get me a ribbon and a paper, I need to contact the parallel world! (Excuse me.)
There are seven rooms in total in this building. Each has its own taste and charm that you can enjoy with your coffee.
Store Information
The store is open from 8:00 AM to 10:00 PM. It's about 12-minute walk from Sannomiya Station. The area is a bit inclined, so prepare for a challenge. When I searched its location on Google Maps, you can actually get a view inside. But the design of the rooms are a bit different of the current one.
I hope you enjoy the tour. Do you have any Starbucks stores with a special concept or something similar in your area? Share it with us!