Gardening Challenge #1: Growing Potatoes
My first gardening challenge is growing potatoes. I bought some Baron (男爵: だんしゃく) seed potatoes  from Nafco home center. I think one bag was about 400 yen, which contained 7 pieces.
Based on the information I read online, there are preparations to do before planting the seed potatoes. First, letting the "eye" buds out. This process is called chitting. When buds are out, next thing to do is cut the seed in half just like in the photo below. If the seeds are small (less than 100g), there is no need to cut.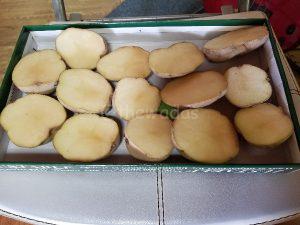 Sun dry the cut seed potatoes for 1-2 days. Doing this will create a coat around the cut side to prevent it from rotting.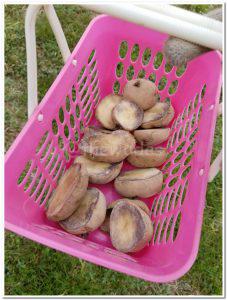 After the above preparation, it is now ready for planting.
Day 1 (Planting the seed potatoes)
April 14, day 1. Time for planting the seed potatoes. Made a hole of 30 cm depth and placed the seed in two different ways, one with the cut side facing up and one facing sideway. We'll see if there will be any difference on their growth.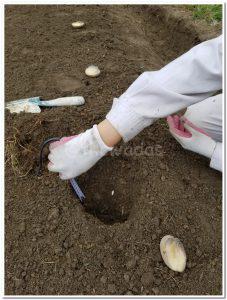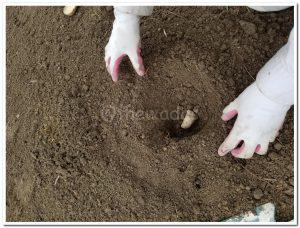 Day 14 (Damage from light frost)
After 14 days, I can see some leaves already out. But it seems it has suffered damages from light frost. Although it's getting warmer during the day at this time, it's still cold in the morning and at night.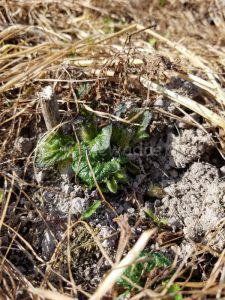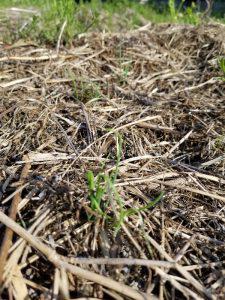 Also planted spring onions as companion plant.
Day 18 (Recovery)
Fortunately, the potato plants have recovered and I see more leaves now in just 4 days.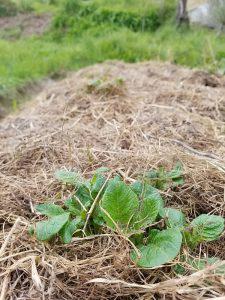 Day 28 (Trimming)
It's growing fast! Another 10 days and here how it looks now.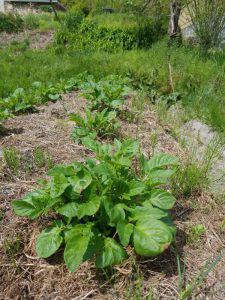 Time to trim out to harvest a big size of potatoes. Not trimming will result to small sizes.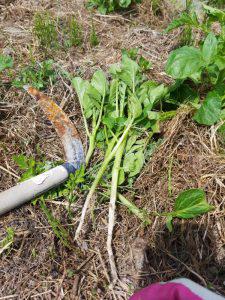 Day 35 (Piling up soil)
Growing bigger! So far, looks good. This time I piled up extra soil around the potato plants. This will prevent potatoes from sun exposure. Sun exposure will cause the potatoes to be greenish, not good for eating since this contains toxic chemical.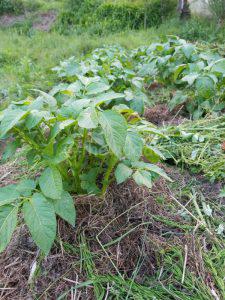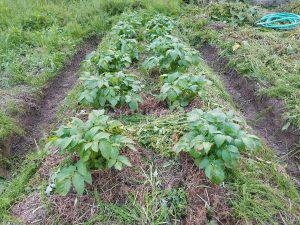 Growing in progress. I will update more later on.
Day 64: Harvest Time!
June 16, still 64 days passed after planting the potato seeds. Ideally, a good time to harvest is after 90 days but the leaves are already falling and have dried out, so we decided to harvest already.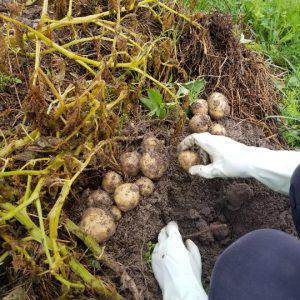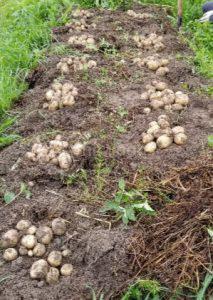 Thank you for dropping by.