4 Steps to Make Super Green Tea
Hi guys! Mrs. Wada is here to share something. Do you like green tea? In the company I'm working at, one of the benefits I get is free green tea. I'm not sure if this applies to other Japanese companies. Even knowing the possible benefits of drinking green tea, I usually just skip it. It's not that I don't like it but whenever I drink one at work I get jumpy. And to feel that way throughout the day is not such a good idea. But just the other day, my favorite Japanese TV show Tameshite Gatten featured what they called "Super Green Tea."
What is "Super Green Tea"?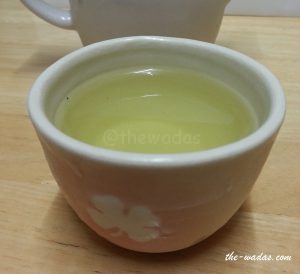 Super Green Tea is not another kind of green tea. According to the show, a regular green tea can be turned into a Super Green Tea by brewing it with iced water, no hot water. Yes, Super Green Tea is cold brew green tea.
What makes it super, you may ask? Below is the list of benefits you can get from cold brew green tea, the "Super Green Tea."
Benefits of Super Green Tea
50 percent more umami compared to the usual way of preparing green tea
more epigallocatechin (EGC) that helps rejuvenate the immune system
less bitterness and almost no caffeine
ideal drink for hot weather
The benefits mentioned above can be attained by brewing the green tea in low temperature (4 degrees and below) and short period of time (5 minutes). With almost no caffeine, you can drink more and get more of those cathechins. Of course, drinking too much, just like any other cold drinks, is not good for the body and will give you reserve effect instead.
How to make "Super Green Tea" (Cold Brew Green Tea)?
Alright, here's how to make Super Green Tea.
Ingredients
– 100 ml of iced water
– 10 grams of green tea leaves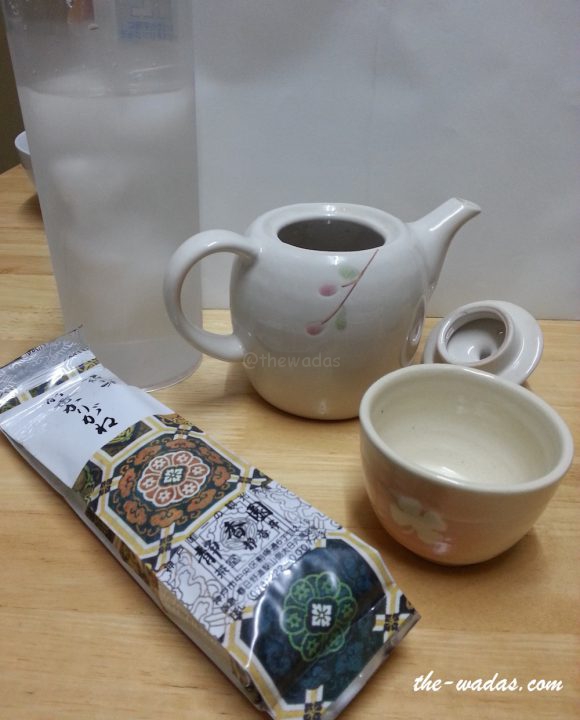 That's the pack of green tea leaves I got from our visit in Shizukatei Tea Garden in Kobe.
Shizukatei: Hidden Tea Garden in Kobe, Japan – The Wadas On Duty
Steps
1. Put the green tea leaves into the tea pot.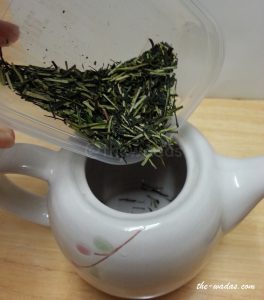 2. Add the iced water.
3. Wait for 5 minutes (and not more than that!). Make sure all leaves are soaked.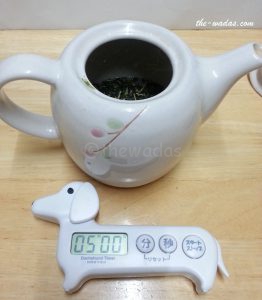 4. Strain and serve!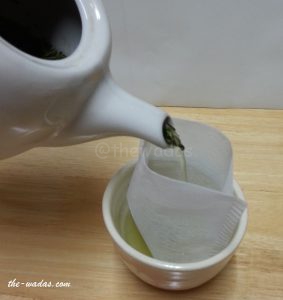 Tips: Do not leave the tea leaves soaked for more than 5 minutes or else it will be too thick, bitter and tastes, hmmm, not my liking. Just like what happened on my first try, below.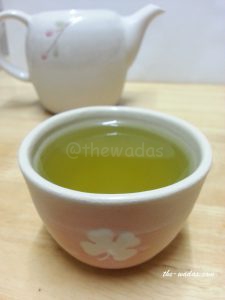 To prepare large quantity
If you want to make more, prepare 1-liter of iced water and put 10 grams green tea leaves packed in a tea filter paper. Refrigerate and let it soak for 30~40 minutes. After that, shake the container lightly, take out the filter paper and serve! Be sure not to soak it too long to prevent the bitter taste from coming out.
We're not done yet. There's more!
Do not throw the used green tea leaves, you can use for a hot green tea and you will get all the remaining cathechins from it. No waste, right? For me, that makes it a Super Green Tea.
Many people might prefer to drink green tea hot, but for people like me who have low tolerance of caffeine, following this method is one way to enjoy green tea and its benefits. Cold brew green tea for the upcoming summer!
What do you think? Do you like your green tea hot or cold? Give this one a try even for once and let me know how it goes.
If you like drinking coffee also, you might like to check out some tips below that I got from the same TV show.
Make your instant coffee tastes better – The Wadas On Duty