Coffee to go in Japan!
Yo, it's Mr. Wada on duty. Right now I'm in a hurry to grab some coffee (dying from thirst). On the way I'm sharing some info where you can get coffee instantly in situations like mine right now (shhhh, don't ask for details!).
Places for coffee to go in Japan!
After reading Mrs. Wada's report here, instant coffee isn't bad after all hah? Coffee to go in Japan, which used to be just cheap & low quality, is not only cheap but actually good nowadays. I've listed up some of them to compare. Check it out.
Note: Stars for evaluation are all based on my opinion. Nothing serious.
1. Convenience stores
Lawson: Machi cafe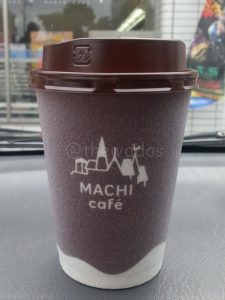 Seven Eleven: SEVEN cafe

Any of the convenience store coffee today is fairly good (enough). With coffee machines installed, fresh coffee are now served (do I sound like from a TV commercial?). As you press the start button, it goes through the whole process of brewing from grinding coffee beans to dripping . It's reasonable as well from a price of 100 yen. Grab & go!
SPEED

PRICE

QUALITY

2. Fast food
McDonald's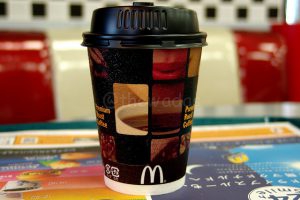 (Photo credit: MIKI Yoshihito)
The world-famous American franchise has improved its coffee. I suppose it isn't bad, though I wouldn't feel comfortable to get only a cup of coffee there. Less points given (personally).
SPEED

PRICE

QUALITY

3. Vending machines (canned coffee)
As TV commercials say "canned coffee has improved its taste, now as good as regular dripped coffee".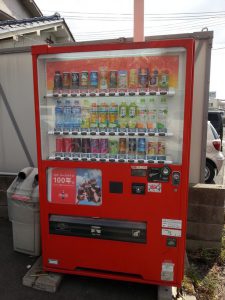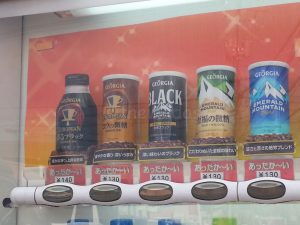 It is not so bad and that it's available in every vending machine (there are millions of them in Japan) which adds up extra points!
SPEED

PRICE

QUALITY

4. Cafes
Drive through is available at some cafes.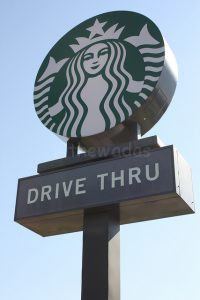 (Photo credit: Brad Reeser)
Unfortunately cafes tend to be busy. Less points given.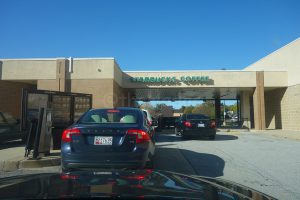 SPEED

PRICE

QUALITY

My opinion
What do you think?  For me, convenience store coffee seem good in total because it's available mostly anywhere, reasonable, and I don't encounter long lineup that often. You might want to compare and taste the differences yourself.
Ok, I think I've found a place to quench my thirst. I will be in touch in a week. See you around.