Popular Japanese Characters Version 2015
Hello guys. It's Mr. Wada on duty. What Japanese characters do you like? Perhaps Pikachu (Pokemon), Totoro, Yu-gi-oh, Naruto, or Hello Kitty? Come to think of it, there are so many (I bet many people wouldn't care/know what's made in Japan really).
How about mascot characters?
Mascot characters
There have been popular mascot characters that represent each city in Japan. It's been sort of a trend and there's even an annual mascot character contest being held.
Funassyi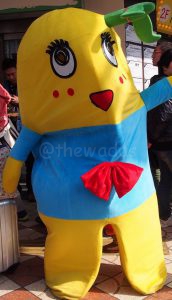 An unofficial mascot character of Funabashi City, Chiba Prefecture (next to Tokyo). He's supposed to be a fairy of pear of some sort. His true name is Funadeus The Fourth. A pretty much crazy setting/plot that he's got.
The truth seems to be that a citizen of Funabashi City (the guy inside) has started it on his own and now have been even more popular than the Funamaemon, the official mascot character of its city (I didn't even know about this guy and he obviously sucks!). Funassyi has kind of broke the silent rule among those mascot characters that they shouldn't be able to speak (at least not like us). So he does speak. His moves also have hooked people. Such weird moves. He claims that it comes from his background of growing up with heavy metal music. Sounds like the man inside is in his 40s. You know, heavy metal generation. Anyway, not my concern.
Kumamon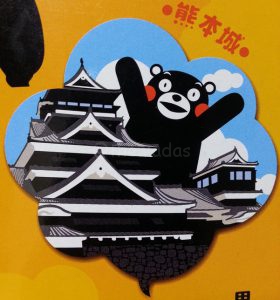 He is a mascot character of Kumamoto City in Kyushu. He's won the national mascot character contest that brought Kumamoto more visitors and financial effect including sales of Kumamon products.
There's an episode that a designer of Kumamon happened not to have the copyright or contract for any of Kumamon products, so he wouldn't get any profit from this jackpot. Probably this guy didn't think it'd be this popular or he is simply a good guy? Who knows. In other words, anyone can make something with Kumamon printed on and sells it without paying royalty. I could make Kumamon Tees and sell online!
Anime characters
Anime characters have been popular all the time. Other than the classic ones, here are some of the popular characters recently, probably the next old-time best.
Attack On Titan (Shingeki no Kyojin in Japanese)
One of the most popular manga/anime of last decade should be Attack On Titan. Its shocking and mysterious story has hooked even non-serious anime watchers. It isn't really for kids since the titans are to eat humans but they seem to like it as well. One of the main characters, the colossal titan, is quite iconic (although this titan has appeared only in a few episodes!) and naturally there are many products of him. I've got this key holder in Tokyo (he's attacking Tokyo tower!).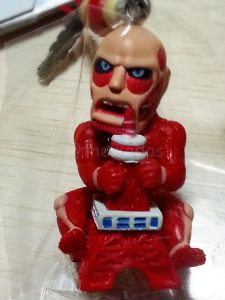 Jiba-nyan (Yokai Watch)
Yokai Watch is becoming as popular as Pokemon is. Just like Pokemon started with its video game, Yokai Watch video game was released in 2013 then its TV series based on this video game began in 2014 and boom! Every Japanese kid is crazy about it now. Pokemon(s) are monsters though, Yokai are ancient Japanese supernatural beings.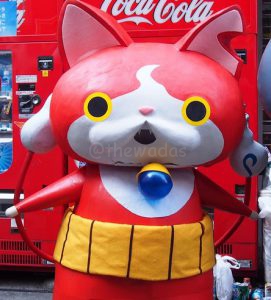 He's a symbol of Yokai Watch, like Pikachu (I guess), a cat ghost that died by car accident . Jiba stands for Jubaku-rei (restligeists, the kind of ghost that is bound at where they died) and 'Nyan' represents cat voice (meow). So it shouldn't sound cute but with Nyan, it kind of does.
In reality, it seems that parents are the one who got involve into this. I've seen some daddies waiting in the line outside a supermarket at night to buy the Yokai Watch products for their kids the next morning! I thought this Yokai Watch would be a short movement but since it's been already 2-3 years and still this enthusiastic doesn't seem to fade. I wonder if it's going to be popular worldwide.
Lastly
Trend keeps coming in and out. A very few stuff remains in the end but these ones above might survive, I think. New or old, it's nice to have a favorite character for oneself.
See you around.
You may also be interested in these.
5 Live Action Anime Movies 2017
Anime Shows Spring 2016
Top 4 Live Action Anime/Manga TV Dramas
Live Action Anime Movies : Get Into Real!
Top 5 Popular Revival Anime