Popular Second-hand Stores in Japan: Be eco-friendly, Save up wisely
Hi there it's Mr. Wada on duty. I'd like to share a little bit about second-hand stores in Japan this time. When you look for anything to purchase, would you consider second-hand? I would, at least in Japan. Does second-hand sound dirty or crappy to you? Good news. You may have more chances to encounter good stuff here.
How is Second-hand like in Japan?
I'm not sure if people really think of Eco but there's always been demand and supply. Plus generally speaking second-hand comes in good condition. Well, they are often categorized in different grades like A, B, etc.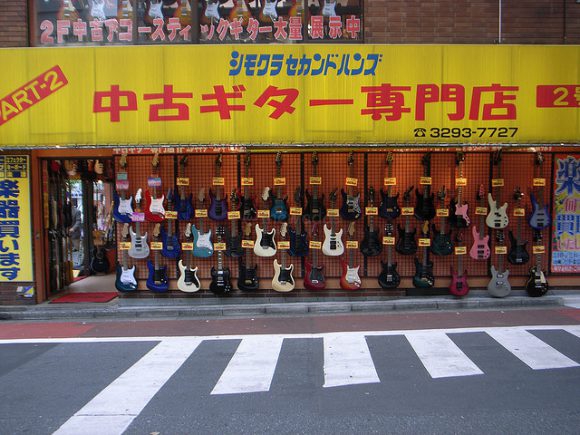 Why in Good Conditions?
Good question. Probably a reason why they look good is at the very beginning, some people might be thinking of selling it later on when purchasing, so they try not to damage or scratch to keep stuff look good. Me? Yeah, I also feel that way sometimes. The more damaged your stuff is, the lesser worth your stuff would be when it comes to selling it.
What About Prices?
It all depends on what kind of product you are looking, and condition matters as well. Some items could be less than half of the original prices.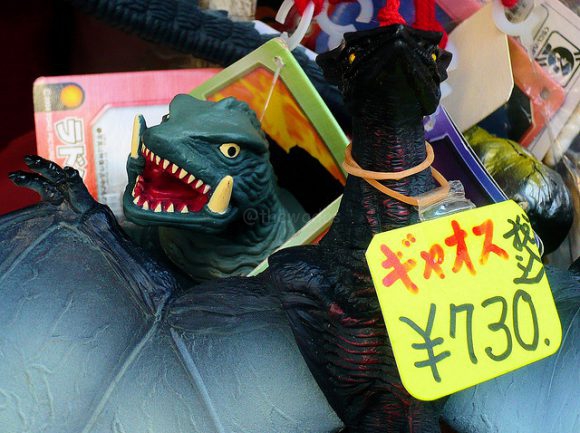 Popular Second-Hand Stores in Japan
Let me introduce you some stores where we often use. You may see them all over the county.
BOOK OFF (ブックオフ)
BOOK OFF sells books, CDs, DVDs, Records, etc. Super cheap.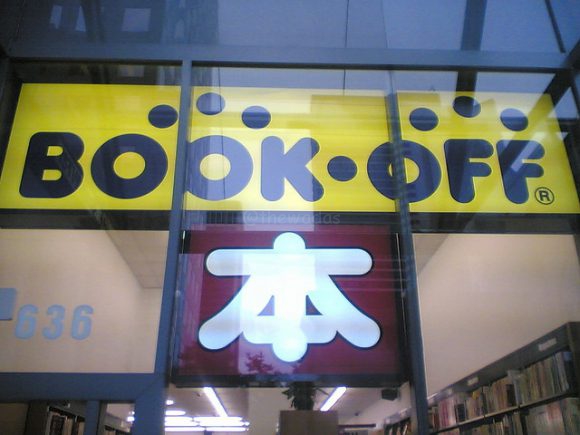 I've got this CD(s) for 200 yen! Books are from 50 JPY-ish.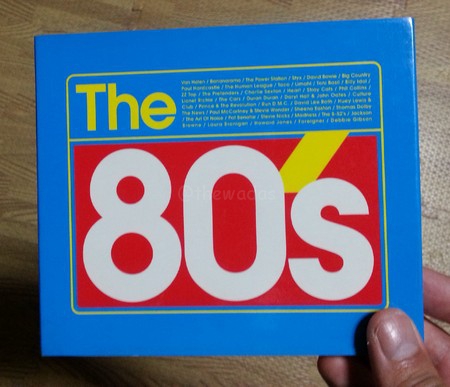 Locations
Find a BOOK OFF store near your place HERE (in JP).
or go to the ONLINE STORE   *Domestic Shipping (Japan Only)
OFF HOUSE (オフハウス)
OFF HOUSE is the same chain of BOOK OFF. This place though sells more varieties of stuff like furniture, clothing, shoes, electronics, toys, etc.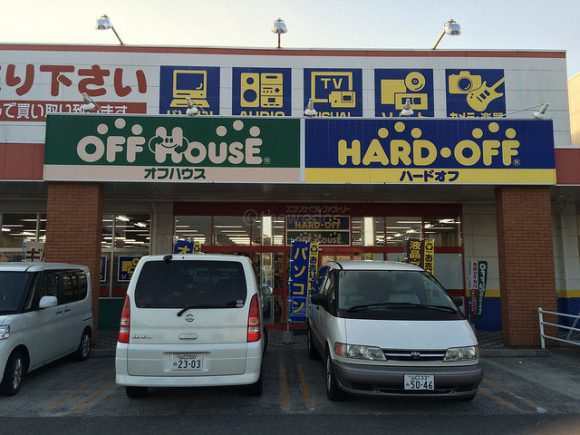 We bought our kitchen table and chairs at OFF HOUSE. It is originally about 20,000 yen, and it was like 3,000 yen at OFF HOUSE. Well, it was a little old but still a great deal, don't you think?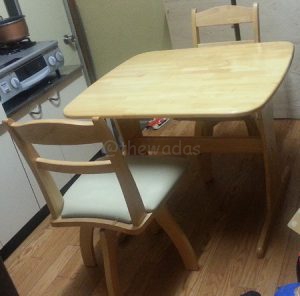 Locations
Find a OFF HOUSE store near your place HERE (in JP).
or go to the ONLINE STORE *Domestic Shipping (Japan Only)
2ND STREET/JUMBLE STORE (セカンドストリート)
2ND STREET is Mrs. Wada's hangout. This store sells more branded products for affordable prices.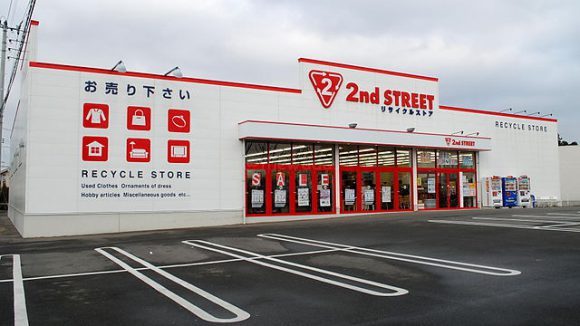 Our jackets from 2nd street. Pretty cool huh? Hehe.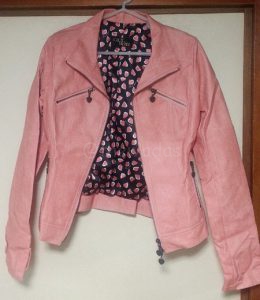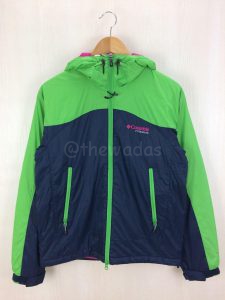 Locations
Find a 2ND STREET store near your place HERE (in JP).
Or go to the online store. *Domestic Shipping (Japan Only)
*To support this blog (the-wadas.com), we would highly appreciate shopping through the link below which gives us commission, however, it does NOT charge you any extra cost.
Here's a post for guide to shopping at 2ND STREET online store.
King Family (キングファミリー)
King Family sells second-hand clothing and some other different items like bags, accessories etc, including branded stuff. General impression I have for this store is quite reasonable. Also I often see some unusual stuff like concert T-shirts. Quite interesting.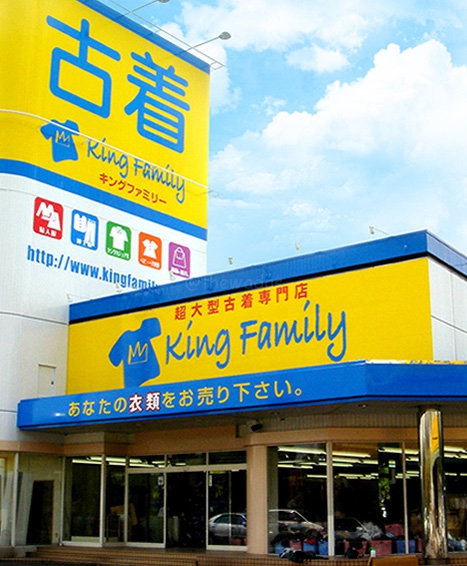 Mrs. Wada's summer hat from King Family (100 yen!)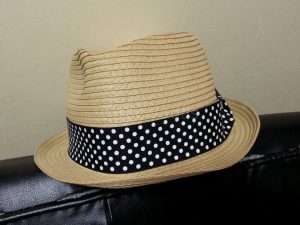 Find a King Family store near your palace HERE.
TREASURE FACTORY (トレジャーファクトリー)
This store is similar to Off House which sells electronics, furniture, clothing, etc.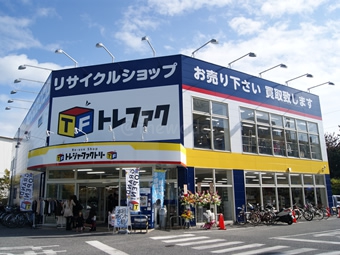 The Takoyaki machine introduced in the previous post was actually from a recycle store called Treasure Factory.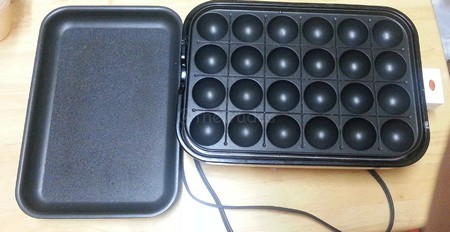 It was about 1,000 yen. A brand new one would've been 2,000 JPY-ish. Big saving.
Locations
Find a TREASURE FACTORY store near your place HERE (in JP).
Thrift Stores
Great deals offered at thrift stores as well.
Looking for International Shipping?
If you would like to purchase from overseas, try this website called rakuten market offers a service for you. Open the link and go to 'global' on the upper-right of the window. You have opportunities for international shipping.
Sell your stuff
These stores also buy your stuff. Normally just drop-in and inform the staff that you want to sell. They would estimate and let you know how much it would be. Oh, don't forget to take your ID though (foreigner card, driver's license, etc). Some stores even visit your place for things you can't take to the store. That'd be quite convenient for selling stuff like furniture (some conditions apply). Check this for the details.
Lastly
To be frank, I used to dislike second-hand. But it was my first time selling my video games, I got chunk of cash and bought some other games, I felt I liked it! (hehe). Since then I wouldn't mind it. Well, of course not all stuff is great and in perfect conditions. Such items like electronics, instruments, you should try out first before purchasing (ask staff though).
Why don't you go check second-hand stores in Japan? You may encounter unexpected deals somewhere. (>v・)
See you around!