Bike Trail at Kibi Plain
Hi there. It's Mr. Wada back on duty. I would like to share our day trip during the new year holiday. We had quite a ride through the Kibi plain.
About Kibi Plain
It is a 20km-bike trail that goes along with historical places in Okayama City and Soja City. We followed this map below this time. These are supposedly major destinations.

Reference for Rent-A-Bike Stores
If you plan on using a rental bike, here's some reference. There are more stores around stations, so you can start anywhere you like.
From Okayama Station
Address
1-1 Eki motomachi, Kita ward, Okayama City
Fee

310 yen (return before 10 AM the next morning)

Note:
ID is required (passport, drivers license, etc.)

Business hours
7:00 – 21:50
Phone
086-223-7081
From Ichinomiya Station
| | |
| --- | --- |
| Arddress | 554 Ichinomiya, Kita Ward, Okayama City |
| Fee | 400 yen for the first two hours (100 yen/hour after that) or 1000 yen for a day (you can return at other locations) |
| Business hours | 9:00 – 18:00 |
| Tell | 086-284-2311 |
Bike Trail at Kibi Plain Model Course
We actually started at Kibitsuhiko shrine since we kinda live nearby.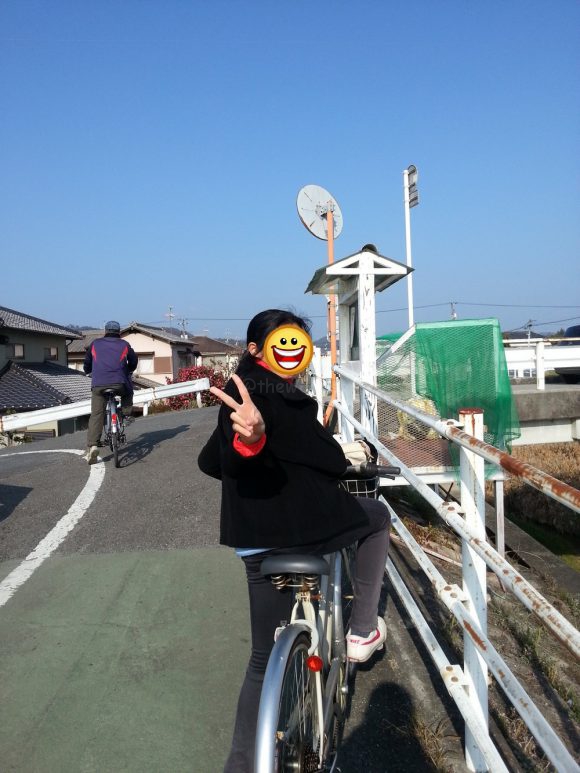 Kibitsuhiko Shrine
So this is our first destination. It is said that it was a house of Kibitsuhiko-no-mikoto who is a model of Okayama's legendary hero Momotaro. It was busy as everyone in this area would come over for hatsumoude.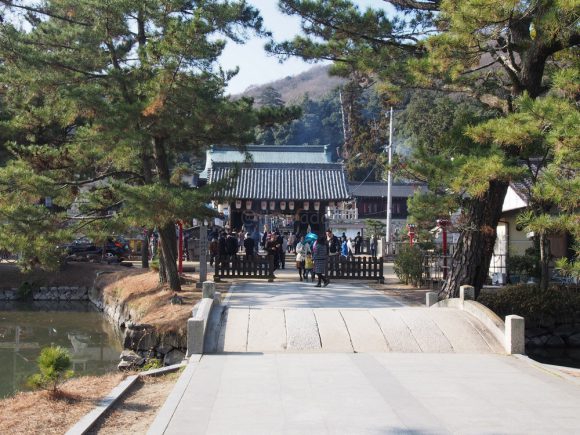 Kibitsu Shrine
This is another shrine related to Kibitsuhiko-no-mikoto (just 10 minutes from Kibitsuhiko Shrine). We've featured this place before for the Ajisai Festival. We may come back during the rainy season in June.
Koikui Shrine
Another stop. Hmm. It doesn't look much, does it? The story of this place is that years and years ago, this area was conquered by an ogre named Ura. And here comes Kibitsuhiko-no-mikoto. He came in and kicked him out. Ura transformed into a carp (koi), and tried to get away, but Kibitsuhiko-no-mikoto also transformed into a cormorant, caught and ate (kui) him.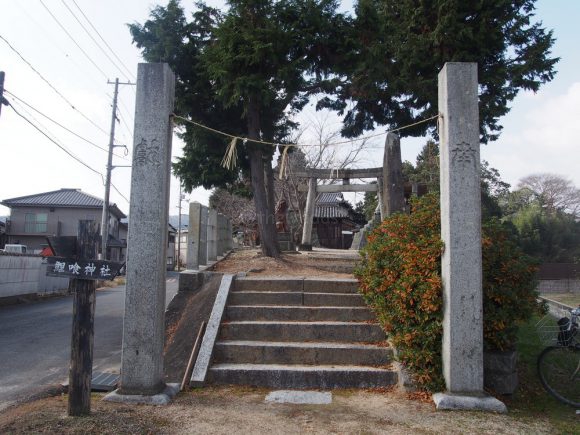 Tsukuriyama Burial Mound
It is a key-shaped giant mound. I remember I've come here with friends for homework in…junior high? Long time ago anyway.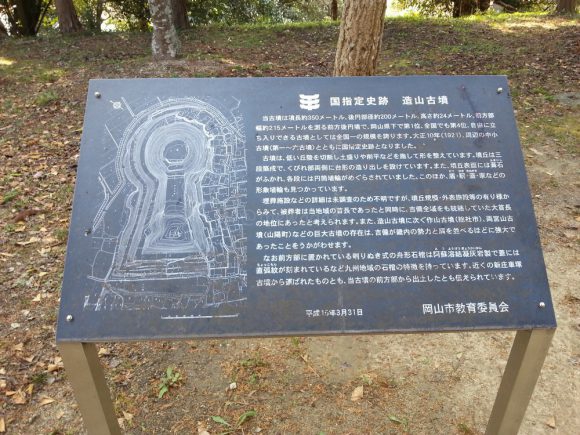 Kokubunji Temple
This is a highlight of Kibi plain. It would be nice with sakura trees in spring. Neat.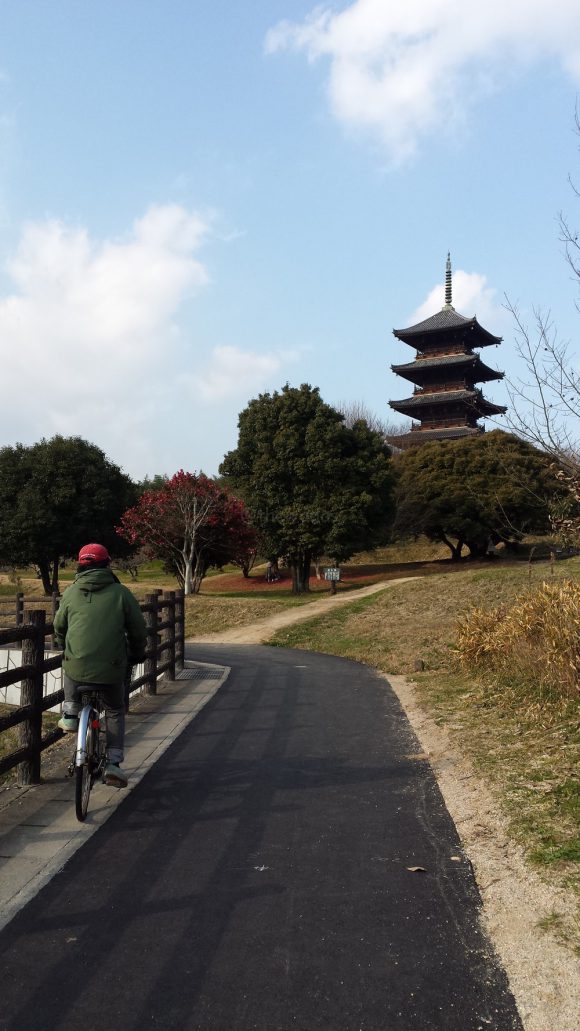 Sojagu Shrine
Now we are in Soja City. Apparently Soja was named after this Sojagu. It also looks like a nice shrine.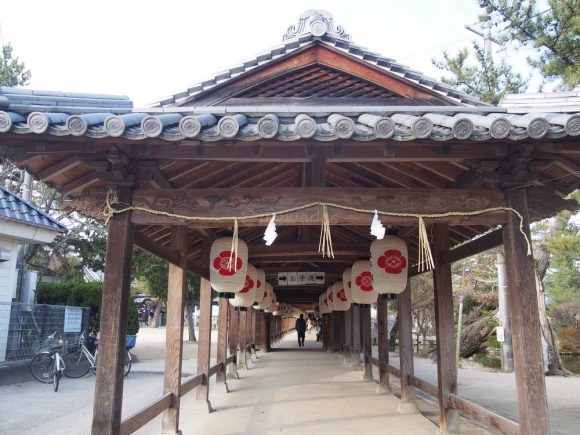 Souja Station
Finally our day trip has come to an end. This Soja JR Station is the last destination. Mission complete! Return your bike and catch a train back or ride back all the way (which we did!).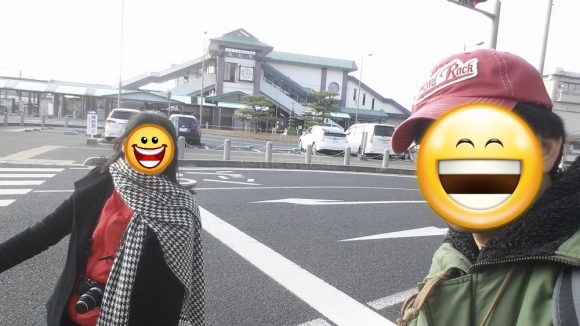 Lastly
Actually the trip itself was unexpected  (by Mrs. Wada's whim) but turns out, it felt alright. Nice workout on the new year's day and nice to explore around Okayama. This bike trail would be nice in spring also. Please try and lemme know how it goes.
See you around!
You may want to check these out as well!
Strawberry Picking in Okayama
Ajisai Festival at Kibitsu Shrine, Okayama City
Hokubo, Maniwa City: Breathtaking View of Japanese Fireflies
Hinase Oyster Festival
Okayama Kyobashi Morning Market