Capsule Hotel with Hot Spring Bath in Kobe, Japan
Hi guys. A long holiday just passed in Japan, the so called "Golden Week." As expected, mostly everywhere is crowded. Despite knowing this, Mr. Wada and I took the challenge of traveling in Kansai area during one of the busiest seasons in Japan. In this post, I'll be sharing my first time experience of staying in a capsule hotel. "Kobe Kua House" is the name of the place where we stayed.
A hot spring water refill station owned by the hotel can be found on the left side. There's even vending machine only filled with bottled hot spring water.
Reservation
I made my reservation online through the hotel's website. It's really convenient to be able to reserve online without having to go in trouble talking in Japanese on the phone. There's no English page though but you can find some text in English that might help a bit to guide you around the site.
I'm not sure in other countries but in Japan, many conventional hotels, even capsule hotels, offer discounted rates just by reserving in advance.
Check in
You need to take off your shoes at the entrance and deposit it into the shoe locker. Then at the reception, I handed out the shoe locker's key to the staff in exchange for the door keys for women's floor and a bag with gown and towels.
In Kobe Kua House, an entire 4th floor is designated exclusive for women. No worries walking around in your pajamas!
This capsule hotel has lockers for big luggage but when all are already occupied, you can ask the staff to keep your luggage at the reception.
The Women's Floor
Now, let's go check the capsule! Up to the 4th floor!
After getting off the elevator, there is a small corridor and two doors on the sides. One on the left is the entrance towards the restroom, hot bath/sauna, dressing room, with lockers and vending machines.
On the right is the way to the capsule units, another dressing area and more lockers. The keys I got from the reception will be my access to both doors.
The staff showed me around, explaining the facilities of the floor. (Quite surprised she made eye contact the entire time.)
Inside the Capsule
So what's inside?
TV/PC monitor, keyboard, mouse, remote control
control panel for light, radio and alarm clock (left side)
mirror (right)
air conditioning (right)
fire detector (top)
pillow and bedding
I didn't expect there's actually PC installed, although operating system and keyboard are in Japanese. Oh, if you want to change the PC language, you can check Mr. Wada's post how to do it here. Inside the capsule is spacious enough for my size. It's pretty clean and doesn't smell at all.
Facilities
Free pick-up service
The hotel offers free pick-up service from Sannomiya Station. You can find their schedule on their website here.



Parking space
If you are coming by car, they offer parking space for 750 yen per night.
Restaurant
It's located on the first floor, just beside the reception. They actually offer a good variation of menu.
Hot bath, sauna, facial and body massage services
(Unlimited) hot spring drinking water
Check out
It's check out time! Just return the keys and the bag they gave you during check in.
So how was the sleep?
Not bad at all. I had a good sleep, no disturbance whatsoever.
On my way out, I just noticed this machine nearby the shoe lockers. It checks your blood vessels' age by just placing your pointing finger into the reader. I can't help but to try out of curiosity!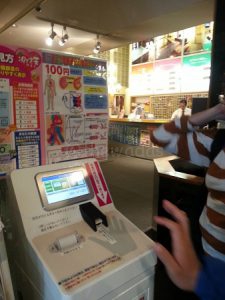 Will I use Capsule Hotel again?
Yes, that is if I can't find conventional hotels with cheaper rate. During busy season in Japan, hotels get full booked immediately and usually what's left are too expensive rooms. Just for a place to sleep, capsule hotel is one of the options I would consider. I guess I would prefer this one compared to dormitory-type rooms because there is more privacy.
Kobe Kua House's rate (3,900 yen for standard unit, as of the time of writing) is a bit high compared to other capsule hotels, but that's because it already includes access to their hot spring baths.
Reference:
Kobe Kua House Capsule Hotel
(What's written in this post is based on my own experience and opinion and I have no connection to Kobe Kua House.)