How to make strawberry sweeter in a second
Hi guys! How's your weekend?
Today, when I went out to have my coffee time at Mister Donut, I saw their new lineup of donuts – strawberry-flavored and even shaped like ones. "Oh, strawberry season.", I thought. Then, I just remembered one thing I learned from an episode in Tameshite Gatten TV show in how to make strawberry sweeter in just one second! I wanted to share it to you guys.
How to make strawberry sweeter in a second?
Take your guess first!
Ready? Ok, here's how: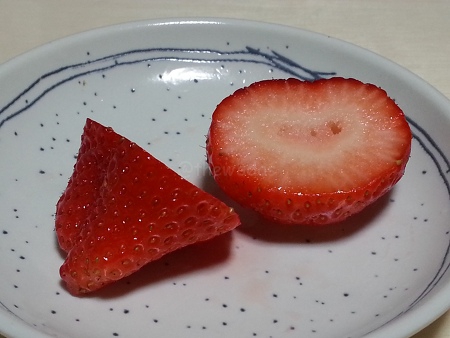 Yes, that's right. Just cut the strawberry into half. Simple, right?
Actually, upper and lower parts of the strawberry have different level of sugar content. So, by cutting it into half and eating the lower part, you can have a sweeter strawberry. But that leaves you a less sweet upper half part. Hehe.
According to Tameshite Gatten's research, the sugar content of the upper part of the strawberry nowadays in Japan is pretty close to the strawberries 30-40 years ago. Back then, they enjoyed their strawberries by crushing and mixing it with milk and sugar. This recipe is called "ichigo miruku" – ichigo is strawberry and miruku for milk in Japanese. It was so popular back then that there's a spoon made just for crushing strawberries. I've heard this few times mentioned on other TV shows also.
By cutting the strawberry into half, not only you can have a sweeter strawberry but also experience similar "ichigo miruku" that Japanese had enjoyed four decades ago.
Revive your not-so-fresh strawberries
Totally forgot you still have some strawberries left inside your ref and already starting to get old? I've experienced that many times already. Revive it by soaking it in a bowl filled with a hot water – specifically 50 degrees Celsius water – for about two minutes. Try it! The method of washing vegetables and fruits in 50 degrees water was popular not long time ago here in Japan. I'll talk more about that next time.
That's it for now. I hope you'll give it a try and let me know how it goes.