Guide to Sushi Restaurant in Japan
Hey dudes, it's Mr. Wada on duty. Like I've introduced some Japanese foods before, Gyudon, Udon… there is variety of Japanese foods. How about Sushi?
How is Sushi like Today
Sushi has been popular worldwide. By the way, I used to live in Vancouver, Canada for a few years (for my mission? can't tell ya) and the city looked quite full of Sushi restaurants (and Starbucks)! People would grab Sushi just like snacks.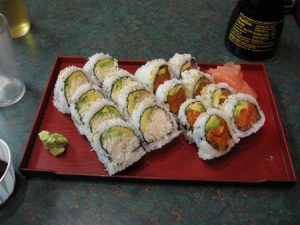 Sushi Restaurants in Japan
Chained Sushi restaurants are pretty casual. Even students go in with friends (I'm referring to Kaiten-Sushi (Sushi Train or Kuru-Kuru Sushi). It's affordable and anyone would be welcomed!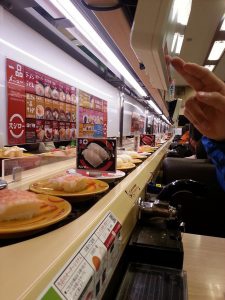 Easy Guide to Sushi Restaurant in Japan
I suppose if this is your first time at a Sushi restaurant, there are things you should know. You don't want to screw in public, do you? Please check below for reference.
This time I'm introducing one of the most popular chains called Sushiro. Welcome to Japan by the way.
Enter the Sushi Paradise
During either lunch or dinner time, it's always crowded. You should be ready for waiting at least for 30 minutes. People get tickets for seats from the machine and wait in the lobby until their numbers are called (like at the clinic and bank).
Now go get a ticket at the machine.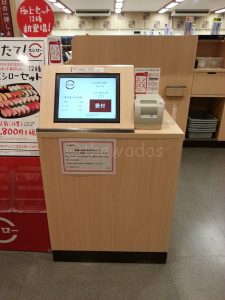 WHAT? 50 minutes (of waiting time)? Anyway, tap the red button shown below.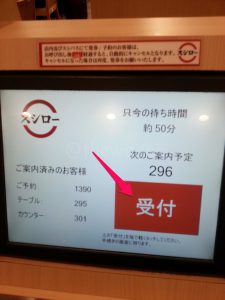 Enter info and confirm!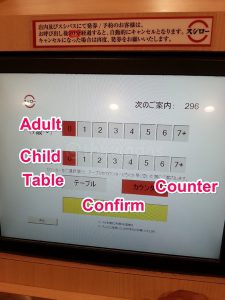 Note:
Good news! Now Sushiro App is available for smartphone devices. You can get a number for a seat beforehand, so you don't need to be around and kill time (thumb's up).
An employee will take you to the table as your number is up.
Preparation
OK, first wash your hands…NO!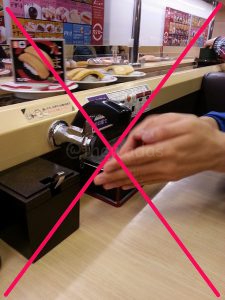 This faucet is for hot tea. You gotta be careful. Never put your hands down there.
Get Green Tea
Grab a cup up here.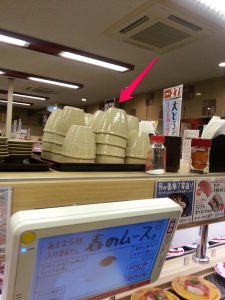 Have a table spoon of Matcha powder into it. Cool stuff, isn't it?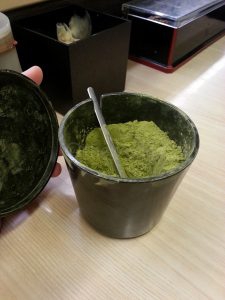 To pour hot water, hold the cup just below the faucet and push it forward pressing the button behind it (like in the photo below).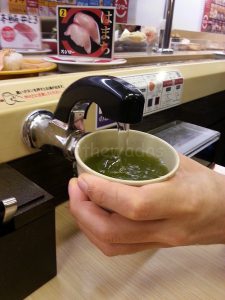 Get Soy Sauce
Soy sauce is placed on the side. Pour some onto your saucer (saucers are placed along with the cups for green tea).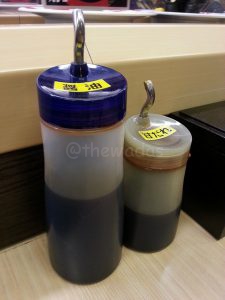 Left one (regular) for sushi, right one (sweet) for eel. Get chopsticks as well. Now you are ready!
Have Some Sushi
Where to start…Oh c'mon! Get any Sushi plates from the conveyor as you like.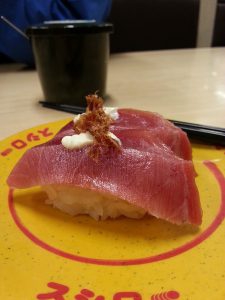 Bonito fish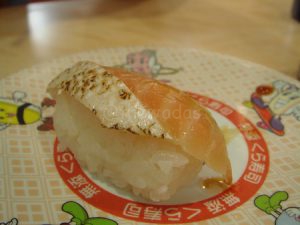 Salmon
Note:
There's a single manner at Sushi restaurants. Once you take a plate passing on the conveyor, NEVER return it (for hygienic reason).
How to Order
What you like isn't coming. Now what? Well, you can order it through the device up here.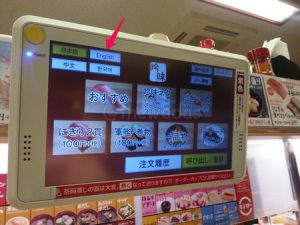 Available in English at Sushiro
Pick what you like and order.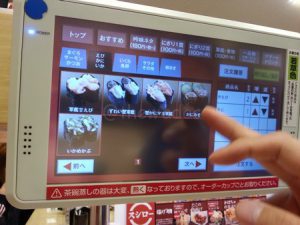 It tells you when your sushi is coming (with alarm). It Sushiro, each panel has a designated color. You'll see the same color on the container of the item you ordered.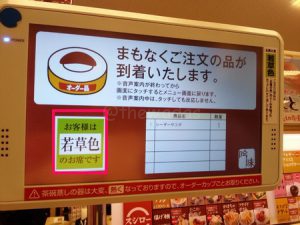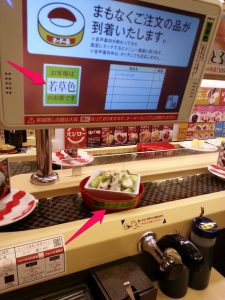 That's it (burp). I'm done.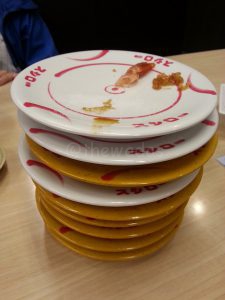 Dessert
There are varieties of desserts are available such as cakes, parfait, ice cream, pudding and even traditional Japanese sweets like Warabi-mochi.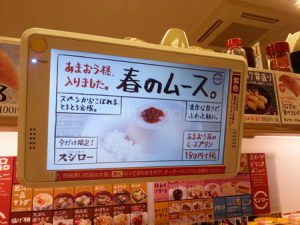 By the way, Mrs. Wada has introduced how to make Warabi-mochi easily in the previous entry.
OK, I'm really done.
Check-Out
Press the 'Check-out' button on the device. A staff will come over and check how many plates you've had, and will tell you how much you owe. He/she will give you a plastic card.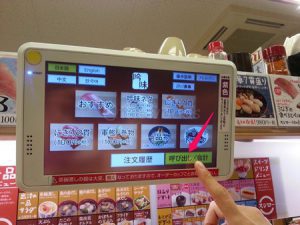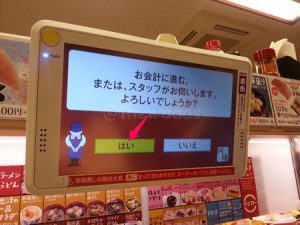 Take the plastic card to the cashier and pay.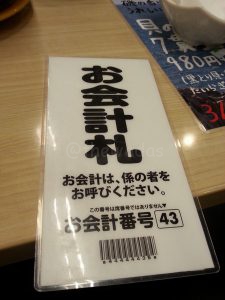 Lastly
What do you think? Other Sushi restaurants have similar systems as well. Try and lemme know how it goes. Hmmm, I now need to relax somewhere with a cuppa Joe. See you around.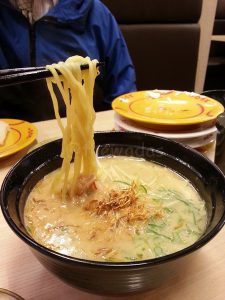 Ramen is one of the popular side dishes as well.
You may also be interested in these.
Types of Japanese Ramen: Find Your Favorite
A Guide To Self-Service Udon Restaurant