Shizukatei: Hidden Tea Garden in Kobe, Japan
Last Golden Week, we had an unexpected trip. It was supposed to be just a side trip turned to be the main destination of the day.
I was looking for something extra to see in Kobe City and found this tea garden being featured on some review sites. It's the only tea garden you can find within Kobe area.
We tried to find a parking area nearby the entrance of the path leading to the tea garden but we couldn't find one. We finally found one inside the Ouji Sports Center, a city-owned center after an hour of waiting.
Getting There
According to Google Maps, the tea garden is 2 kilometers away from the sports center and about 25-minute walk. Not that far, I thought, but then it turned out different as I've expected.
From Ouji Sports Center, we went our way up passing Shouin High School (right side). After a few minutes of walking, we passed Myokoin, which is on the left side on the photo below.
Few meters ahead on the right side is the first bridge. It will be an entrance of the path leading to Shizukatei Tea Garden. I saw a sign that this bridge is a spot for fireflies (season for firefly watching would be around May).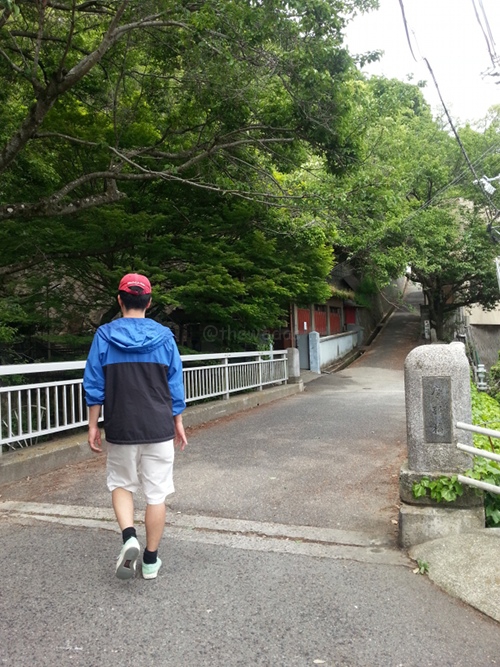 Time to climb up!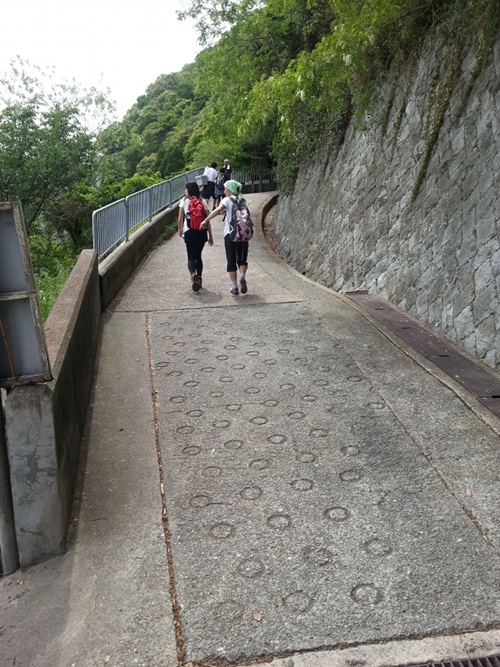 City view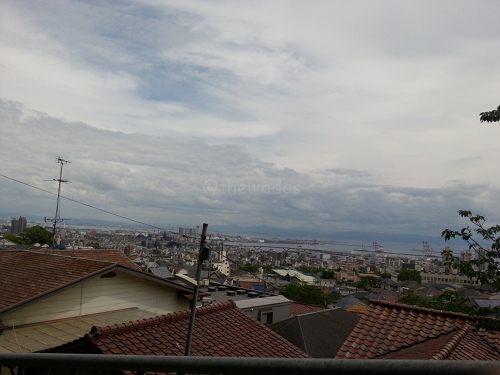 After awhile, we passed Senryuiji (temple), amazed to see these motorbikes to come up this far.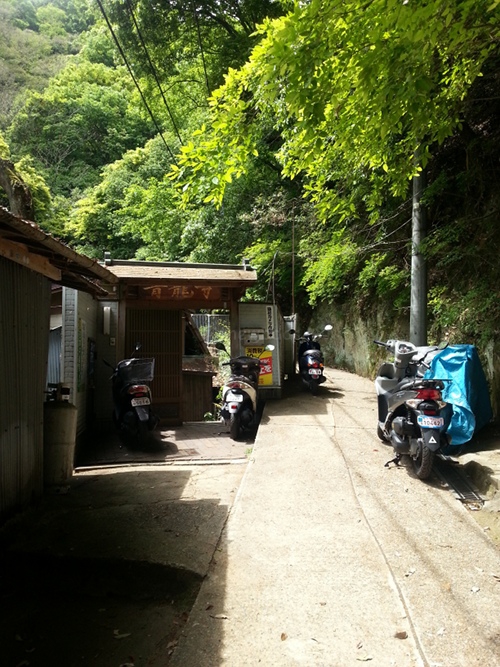 Another bridge. There's a waterfall on the right side.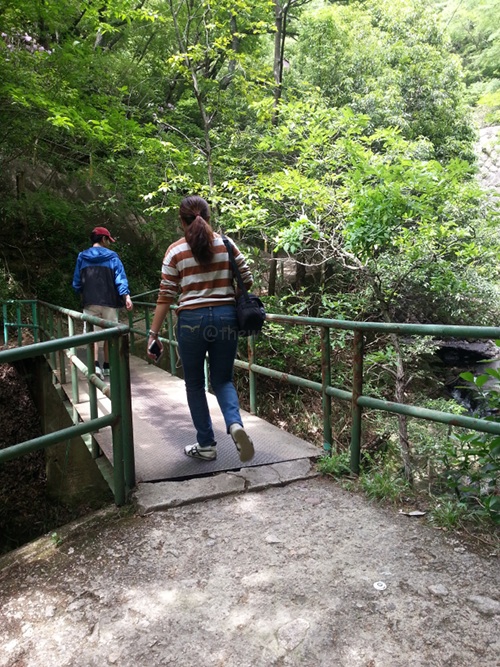 Still not there. More slopes, and we are already too thirsty.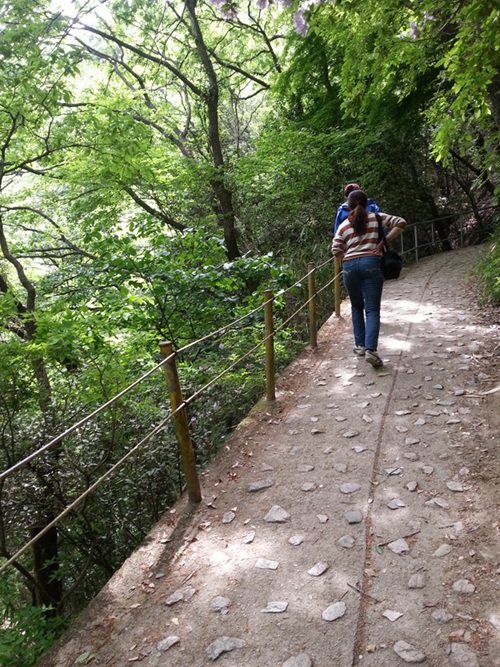 Encountered a lot of maple trees with relaxing sound of flowing water. But still no sign of the tea garden.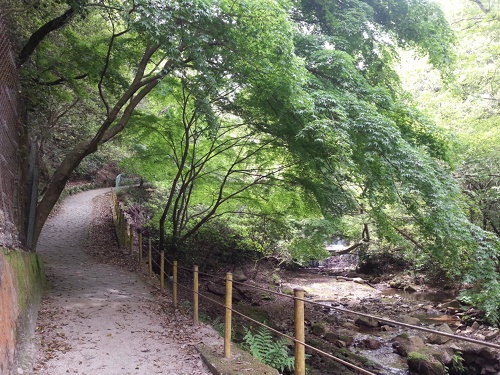 Oh? Finally I can see a sign!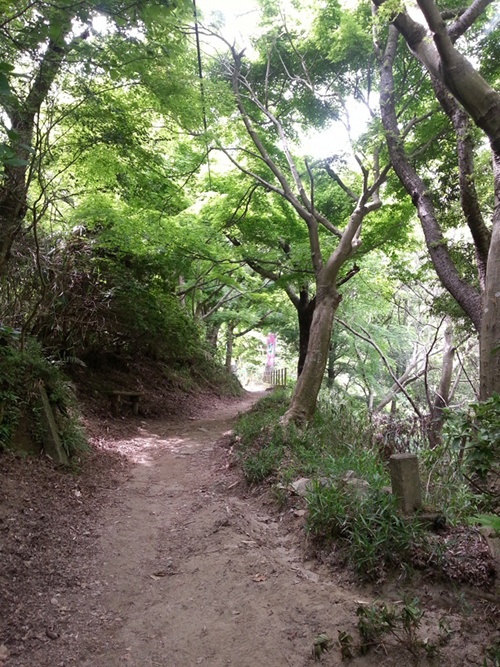 And, there it is!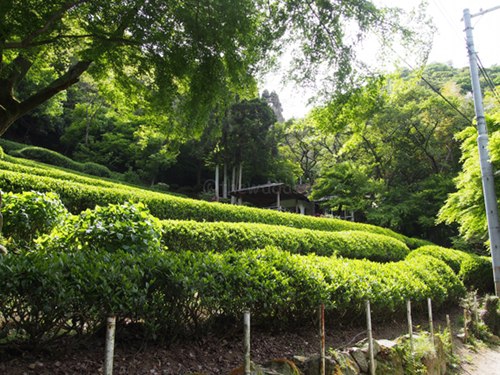 Here's the entrance of Shizukatei Tea Garden.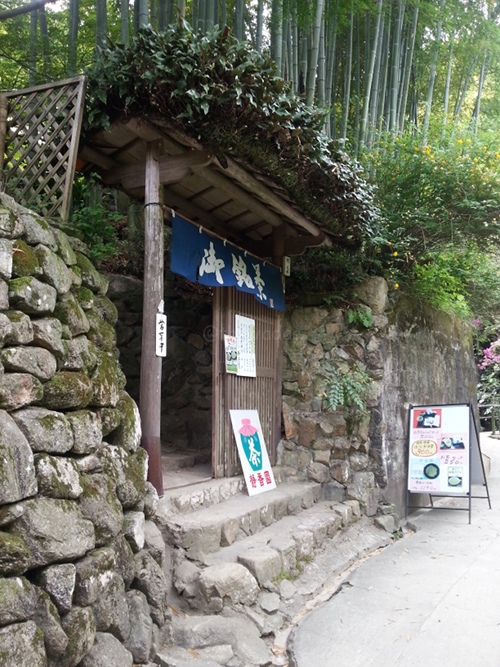 We immediately entered the place. Upon entering, you can hear an alarm sound. Every person passing, the alarm is being triggered. For security? or maybe to inform the staff that there are customers.
We were welcomed and greeted by the owner. He ushered us to the terrace and we made our orders.
Here's a view from inside.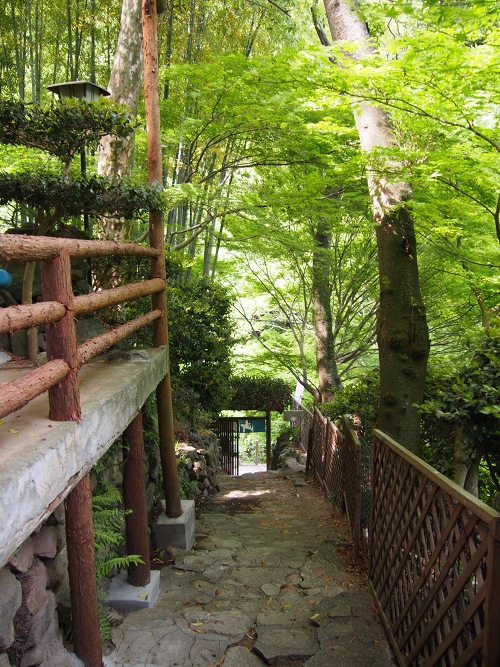 Based on the Google Map direction, it was supposed to be just less than 30-minute walk but it turned out almost an hour of CLIMBING!
Highlights of Shizukatei Tea Garden
The Terrace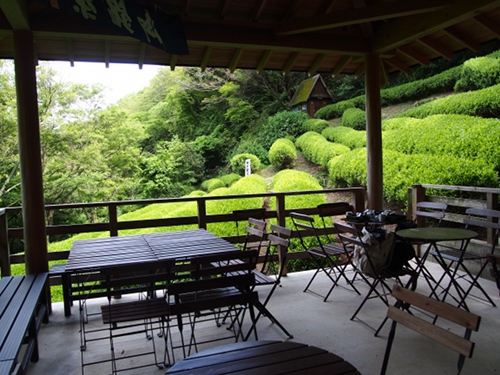 When we got here, there were customers but after awhile they left to continue their journey to climb up Mt. Maya. So, the place is all ours to enjoy.
Tea Garden
The owner kindly gave us a tip to come up to this spot for a perfect view.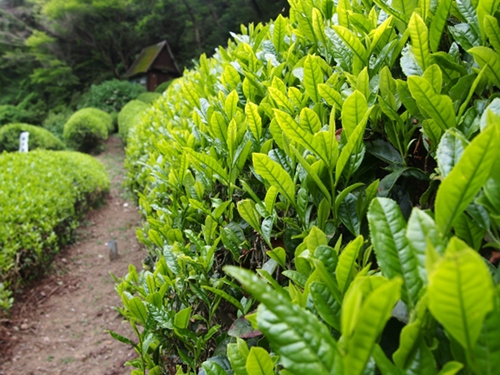 Menu: New Tea (Leaves) Manjuu Set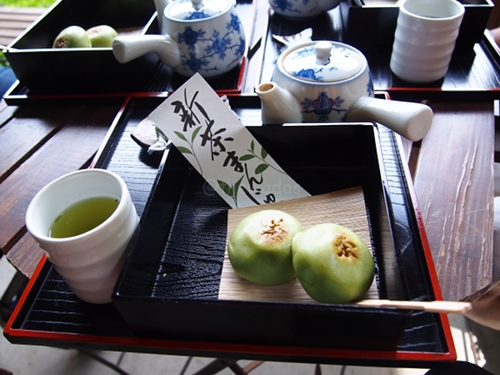 Aside from the manjuu set, you can also have tea only, matcha latte or houjicha latte.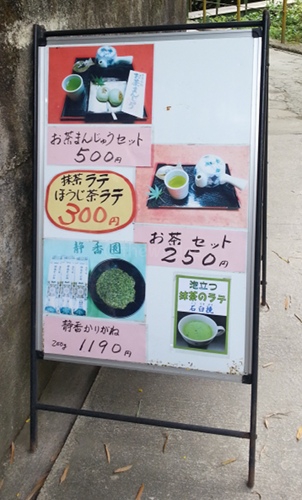 Bamboo Trees, Shishi-odoshi
There's a garden in front of the owner's house with an amazing view of bamboo and maple trees. Before we left the place, I couldn't pass the opportunity to take a closer look of the bamboo trees. So, I asked the owner for permission and he gladly showed us around.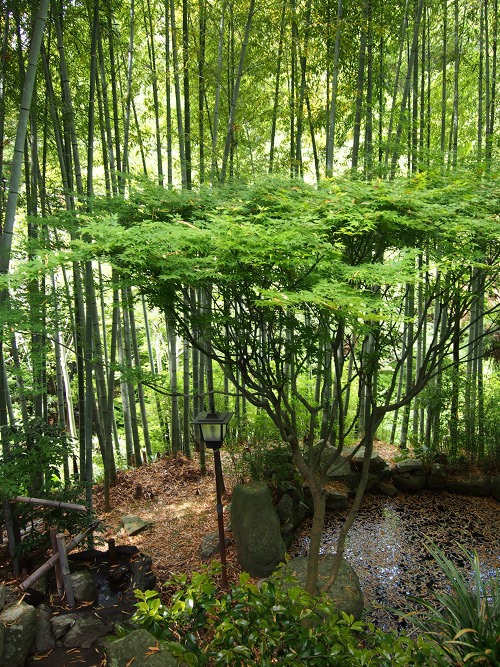 There is even shishi-odoshi (on the bottom left side), such a relaxing sound to hear (originally, it's a device to drive away agricultural-damaging animals). I took a very short video, check it out below.
[videojs webm="https://the-wadas.com/wp-content/uploads/2015/05/tea_garden_shishi-odoshi.webm" poster="1″ width="500″ height="350″ preload="true" loop="true"]
The owner showed us these young bamboo trees. He said it only takes a day to grow up this tall (the one on the right). Wow.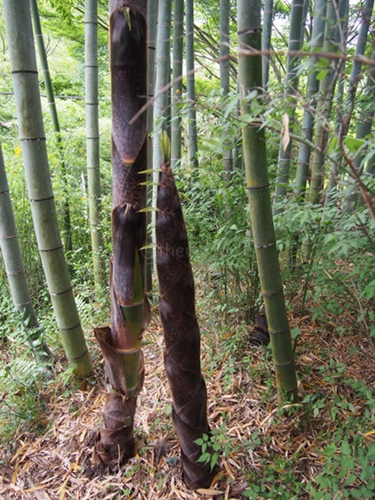 Lastly
I really enjoyed our trip to Shizukatei Tea Garden, the hidden and only tea garden in Kobe City. If you don't mind climbing up the mountain, able to see lots of maple trees and of course witness the beauty of the tea garden itself, come and visit this place.
Don't forget to bring water with you, trust me. A stick to hold on might be helpful also. One good thing is, if you have noticed in the photos, most part of the path is cemented.
By the way, if we went there a week after we would have been able to experience tea-picking. They usually hold it once a year. For tea-picking experience, make sure to call them for reservation.
Note: They have a tea shop with a name of "Shizukaen" located in Kazuganomichi Station, just one station away from Sannomiya Station. Don't get confused between these two locations!
More Info
Phone Number: 078-801-3563
Address: Koyabaohara-1-5 Harada Nada Ward, Kobe, Hyogo Prefecture 657-0802
Business Hours: 9:00 – 17:00?