Kazurabashi of Iya, Miyoshi City: A thrilling walk
The Story Behind the Photo
In spring of 2014, Mr. Wada and I went to Miyoshi City in Tokushima Prefecture, Shikoku Island to check out the Kazurabashi of Iya (祖谷のかずら橋). It was right before the increase of toll fee of The Great Seto Bridge.
Summer was about to start and before the summer heat gets unbearable, we decided to go on a road trip. Looking for a nice place to visit in Shikoku Island, I came across the website. It shows the scenic view of a river surrounded with mountains and then this picture of Kazurabashi of Iya that made me want to visit.
From Okayama, it took us about 3 hours to get to Kazurabashi with a couple of stops (udon break at Lawson in Kagawa and sudachi flavor ice cream at River Station West-West near JR Ōboke Station.
We parked our car just few meters away from Kazurabashi and walked towards the entrance of the suspension bridge. We bought our tickets and waited for our turn to walk on the bridge.
Kazura Bashi over the canyon in this secluded mountain villages is also associated with the legend of fleeting Heike clan, once most powerful ruler. This bridge is made of Actinidia auguta (a kind of kiwi vine) and is 45 meters long, 2 meters wide. It weighs approximately 5 tons and is suspended 15 meters above streams. It was the only access over the deep canyon into the mountainous area in those days. The bridge is changed every three years. (Designated as a National and Prefectural significant folk cultural asset)
The distance between the steps isn't that wide but since there is no net underneath the bridge, it made me feel like I might slip and fall into the gaps. At first I was taking photos but when I reached half way, already got too concentrated on every step to bother to take any. It was a short but thrilling walk.
After that we explored the area. There's a waterfalls nearby with unlimited supply of negative ions. Then, we went down to the river and soak our feet in the water. Water is so clear and cool. If I only had extra clothes, I would have swim. Actually, there were kids swimming that made me really envy.
After exploring the area, we entered to one of the restaurants that sells grilled river fish called ayu, my favorite! We had it for lunch with soba noodles. It tasted really good and cooked very well that neither bones nor head are left uneaten.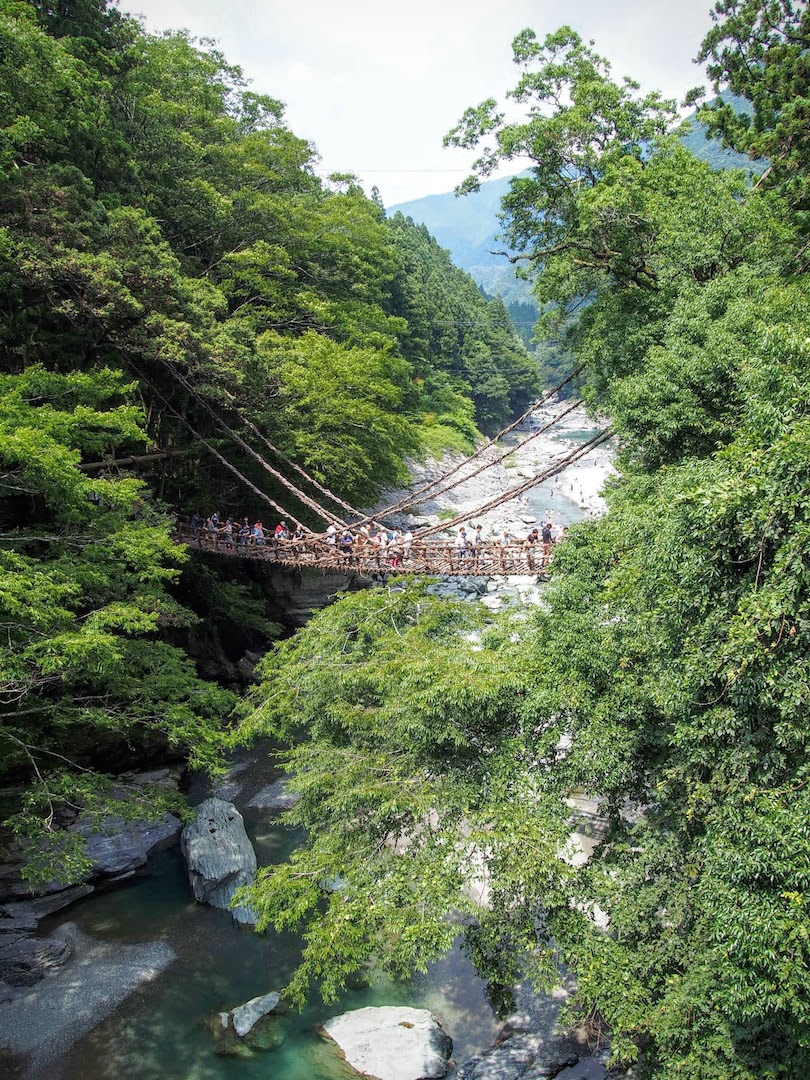 Travel Itinerary of Kazurabashi of Iya, Miyoshi City
Route

Okayama City -> River Station West-West (Ōboke, Miyoshi City) -> Kazurabashi of Iya (Miyoshi City) -> Okayama City

Sightseeing spot location
778-0102 Tokushima Prefecture, Miyoshi City, Nishiiyayamamura Zentoku, 162-2
Google Maps
Website
 Time needed to explore
 2-3 hours
 Method of transporation
 car
 Nearest train station
 JR Ōboke Station
Other activities to do
river cruising, white water rafting (reception located at River Station West West in Ōboke)