Antique & Cafe Yukashi in Okayama City
Hi everyone. It's rainy season already in Japan. Humid weather almost every day. Just recently, Mr. Wada and I visited a cafe that I happened to really like, and it's just less than 20 minutes away from our place.
Just look at this green facade! Refreshing, like it!
Antique & Cafe Yukashi (アンティーク・カフェゆかし)
This cafe came up from my Google Map cafe hunting for awhile. I wanted to visit but I had this thought that it might be like the cafe we encountered before that regular customers smoke. But!, during our visit no one did (not sure if it's a non-smoking cafe though), so it was a relief.
This cafe sells antique items. You can see that most of the display items have price tag on it. Even the huge cabinet where many of the small plates are being displayed is for sale. Quite interesting.
Not only antique items but flower arrangements are all over the cafe. The owner does the flower arrangement herself. I so envy this lovely place!
Food and Drinks
For a hot hot day, iced coffee is a perfect drink to order. Mr. Wada and I had iced coffee with crumbled banana cake. They didn't much option for desserts but more on light meals.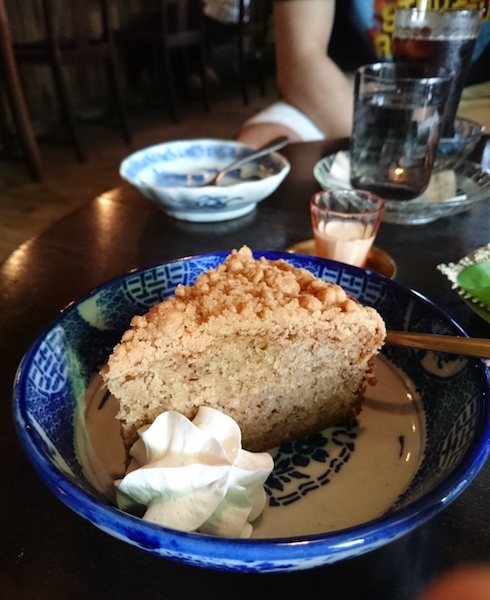 Gallery
| | |
| --- | --- |
| Name | Antique & Cafe Yukashi (アンティーク・カフェゆかし) |
| Business Hours | 11:00 AM – 6:00 PM (Closed on Thursdays) |
| Parking Space | Available |
| Address | 702-8033 Okayama-ken, Okayama-shi, Minami-ku, Fukutomihigashi, 1 Chome−5−30 |
There you go, another one added to my favorite cafes.