Ajisai (Wisteria) Flower and Firefly Festivals 2016
Hi guys! It's Mrs. Wada back on duty. It's rainy season already and rainy season means it's season for ajisai flowers and of course, fireflies! This year we visited Kibitsu Shrine again for the ajisai (hydrangea) flower festival, here in Okayama City and then Hokubo, Maniwa City for the firefly festival.
Here's my posts from our last year's trip.
Hokubo, Maniwa City: Breathtaking View of Japanese Fireflies
Ajisai Flower Festival in Kibitsu Shrine
I was a bit worried about the weather but it turned out sunny on this day. It's quite hot actually. We were already soaked in sweat just by climbing the stairway.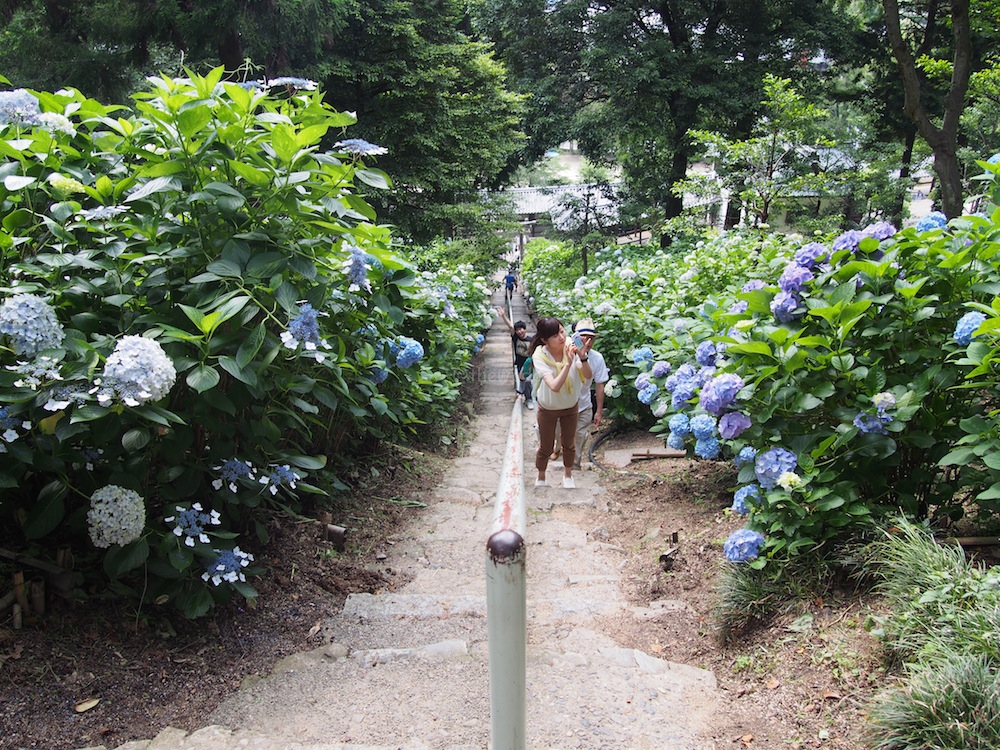 This long stairway surrounded by ajisai flowers is the main attraction of this festival. Many varieties and colors of ajisai flowers can be seen. At the time of our visit (June 12, 2016), it was still on the way to its peak period.
During our visit, we saw many students in the area. And later we found out that there was a practice of archery on that day.
Firefly Festival in Hokubo, Maniwa City
Same as last year, we left Kibitsu Shrine around 4PM and headed our way to Hokubo, Maniwa City. Since it was still bright when we arrived, we stayed around the main street and had coffee at a rice store turned into a cafe during the festival period. It serves cafe latte and mochi-mochi (chewy) waffle, for 200 yen per menu item.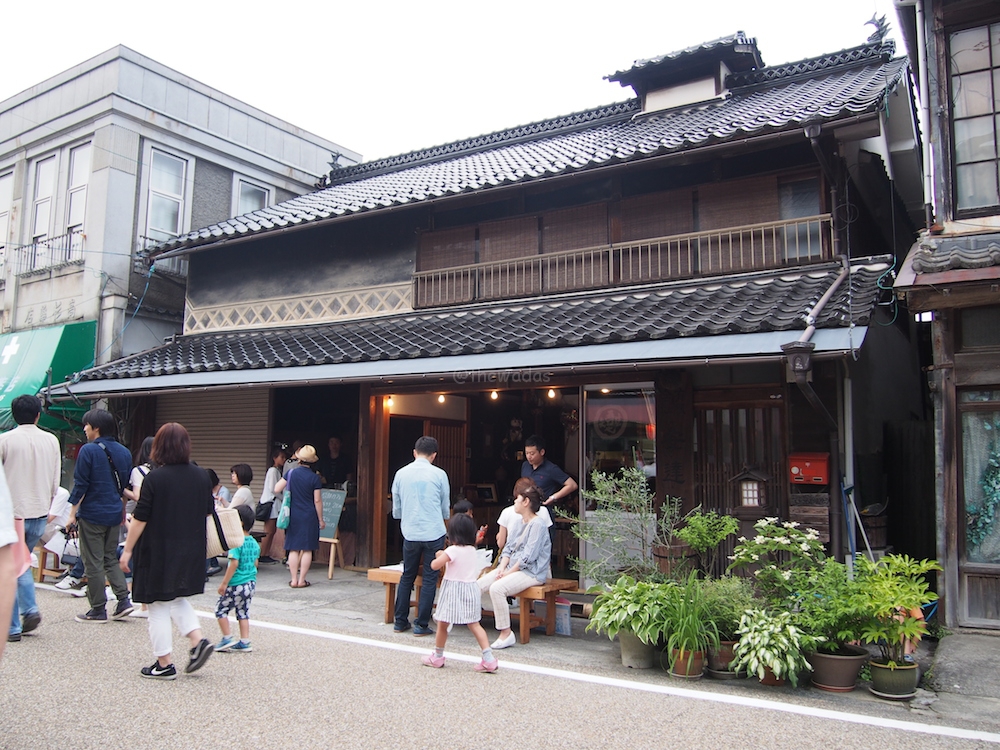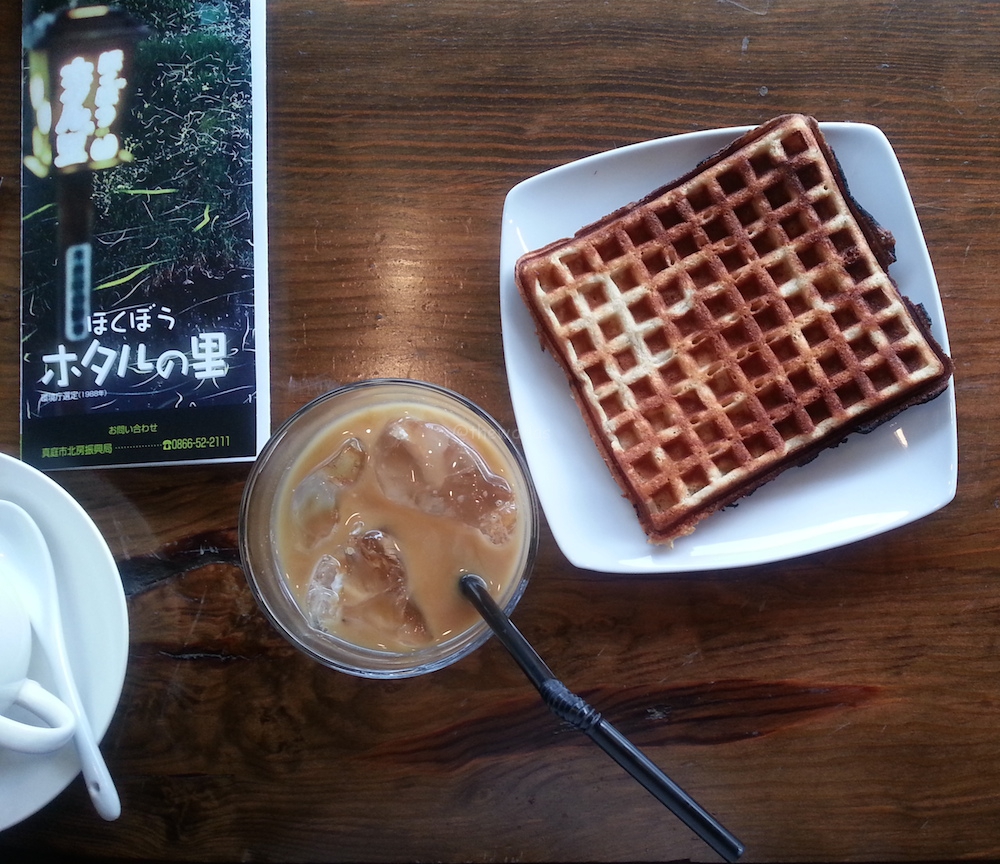 Many food stalls sell yakitori, yakisoba, yaki-ika (grilled squid), and drinks. One place even serves "hotaru-dog" (firefly-theme hotdog in a bun). Live music and some old-time games are also available to enjoy.
Fireflies Watching – The Main Event
Last year, overwhelmed by the number of fireflies in front of us, we ended up staying most of the time in one spot only before we realized we could have explored other areas of the river. This year we went to the other side of the river where we were able watch fireflies at a very close distance. For the first hour, fireflies stayed in just one area but as the time passed by, it started to spread throughout the river and went up higher above the trees.
More Information
Where to Park
From 7PM to 10PM, the area is really crowded and sadly many cars come and go the whole time which can be really disturbing. I hope they would restrict cars from entering the area at night during this season. The city provides free parking area not too far from the main street where food stalls are located. So if you are planning to come by car, I highly encourage to park at Hokubo Cosmos Dome then walk down your way to the main street which leads you to the firefly watching area.
Best Day and Time to Watch
The firefly watching event in Hokubo started last June 1 and will continue until end of the month. This week is already the peak period. Fireflies are more active when it's not raining and not windy, so make sure to check the weather before you go. They slowly start to be visible from 8PM. If you want to avoid the crowd and have the scenery all by yourself, the best time would be after 10PM.
For other locations in Okayama Prefecture, you can get a list of the locations in this website (in Japanese). For Hokubo, check here.
Have a nice week!
By the way, here's the manhole design of Hokubo, Maniwa City.
In Japan, you can find different designs of manhole in each city. Designs are usually related to what the place is famous for, firefly in this case. But Hokubo is also known for its cosmos flower field during August, which the location is just few kilometers from firefly watching site.
You may want to check these out as well!
Bike Trail at Kibi Plain
Strawberry Picking in Okayama
Ajisai Festival at Kibitsu Shrine, Okayama City
Hokubo, Maniwa City: Breathtaking View of Japanese Fireflies
Hinase Oyster Festival
Okayama Kyobashi Morning Market