Japanese Sweets: How To Make Mitarashi Dango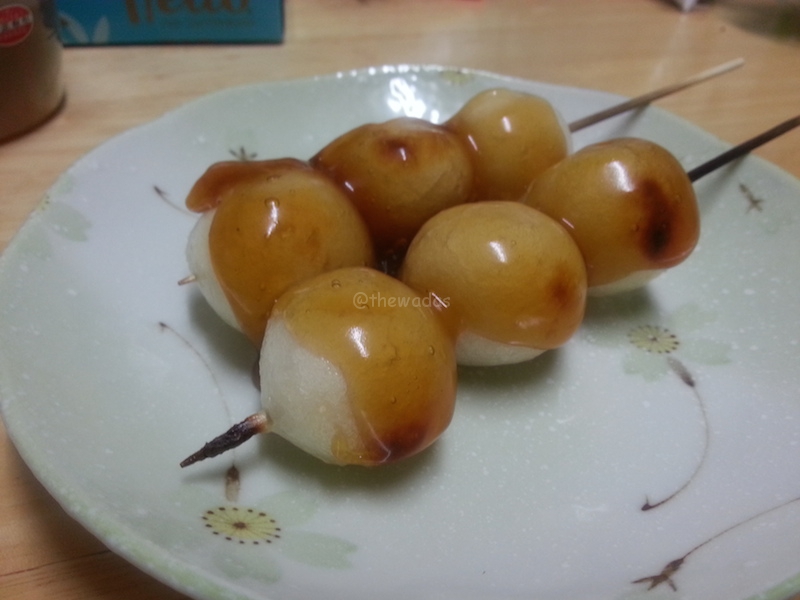 How's your week so far? It's Mrs. Wada back on duty again. Here's my another challenge in making Japanese sweets. This time I'm going to share a simple and easy to make Japanese sweets called mitarashi dango. There are many variations of dango sweets in Japan. For mitarashi dango, it's basically a dango on stick grilled and coated with thick sweet and soy sauce glaze.
I think this is one of the Japanese sweets that you can easily find in supermarkets and often I see this in tourist spots also.
Mitarashi Dango Ingredients
For the dango
100 grams of glutinous rice flour
100 ml of water
For the glaze
50 ml of water
2 1/2 tsps of soy sauce
2 tbsps of sugar or honey
1 1/2 tsps of potato starch flour (or you can use cornstarch flour)
Directions:
Steps for making dango balls.
Add water to the glutinous rice flour little by little.
Knead until it's smooth and soft (as soft as your ear, as usually describe in Japanese recipes :D).
Divide the dough equally into 6 pieces (or in a bite-size) and shape it into balls.
Boil water in a pot and drop the balls into it one by one.
When it floats, scoop out and transfer into a bowl of iced water.
Drain off the water from the dango balls and skewer it into a stick.
Then roast it in a grill or a toaster, for aroma and a little crispy texture outside. I used fish grill this time. Set it aside.
Steps for the sauce
Mix all the sauce ingredients and heat up in a pot.
Keep on mixing until it thickens.
Pour into dango balls and it's ready to eat!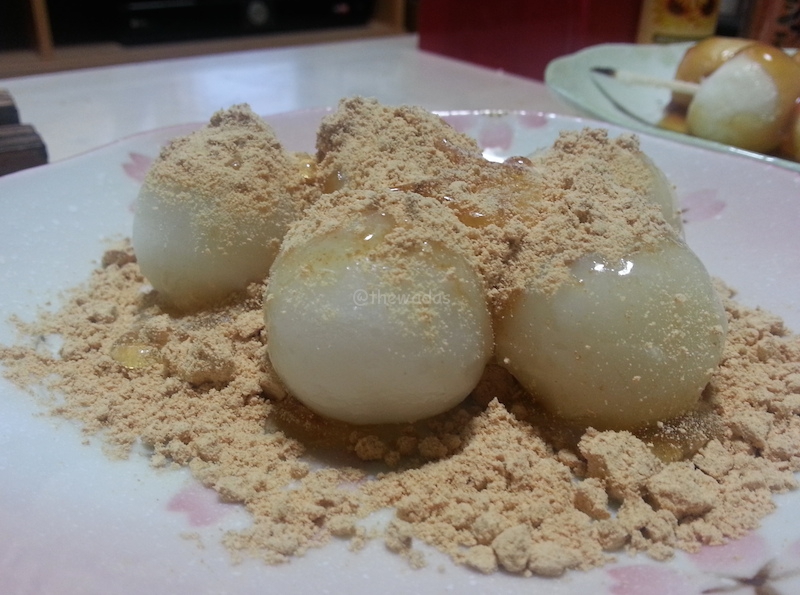 For another variation of dango, you can use honey and kinako (roasted whole soy bean powder) or anko paste as topping.
https://the-wadas.com/anko-recipe/
Midarashi Dango of Takayama City, Gifu
During our visit in Takayama, we had midarashi dango. Yes, that's right. They call it miDArashi dango there. What's the difference? Well, unlike the usual mitarashi dango, it's not sweet. It's dipped into soy sauce and although it's roasted very well, it remains soft and mochi-mochi.
http://www.takayama-gh.com/tabaru/article/zinya_dango/
If you got some glutinous rice flour at home or just wanted to try some Japanese sweets, how about give this one a try and let me know how it goes.
Thanks for reading and have a nice week!