3 Must-Go Autumn Leaf Spots in Kyoto
Hello people. It's Mr. Wada back on duty. Kyoto, that's where Japanese history and traditions remain. Well, I suppose no explanation needed for such a place right? When the leaves turn red, it gets super busy. I am sharing autumn leaf spots in Kyoto this time.
You may wanna check this out as well for reference.
Autumn Leaf Spots in Kyoto
Genko-an Temple
Seeing the autumn view through the rounded and square windows are breathtaking (unfortunately camera is NOT allowed in there). It looks even more beautiful than I saw on TV. This place has been used in several TV commercials.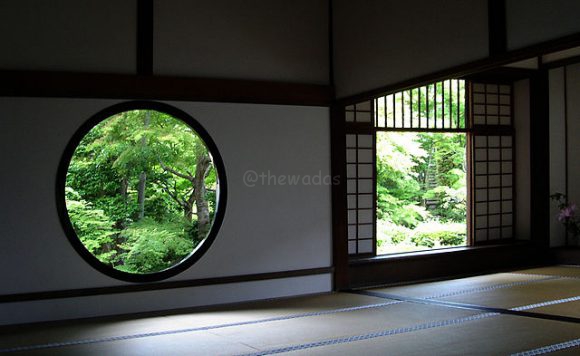 (From Wikipedia)
When we visited this place few years ago, it was very crowded. We had to line up and wait for our chance to see the view of autumn leaves through these windows. The views were indeed amazing but here's a tip, on the way out from this room there is an open wall where you can see the garden with big trees full of autumn leaves. You can relax there, spent some time to enjoy the view without the rush. Highly recommended.
Website: Genko-an Temple
Kiyomizu Temple
Its light-up is a main event. People start lining up for the ticket in the evening. This is the most painful moment though. Once you get the ticket, the rest is yours to explore and enjoy. The most popular spot for taking pictures is almost impossible to reach. You could stay in another line and still can only stay there for a minute (security will push you over).
Tip: As you can see in the photo, there will be long line up right before the opening time in the evening. Of course you can join in the line-up and feel the festive moment but it will take time and can be tiring. My tip is to come over after 20 minutes or so after the opening time. By the time, long line-up is gone and traffic flow is faster.
Website: Kiyomizu Temple
Arashiyama
Arashiyama gets really busy during this season. Arashiyama romantic train is the most popular ride. You could just stop by but I hardly picture you would make it to the train.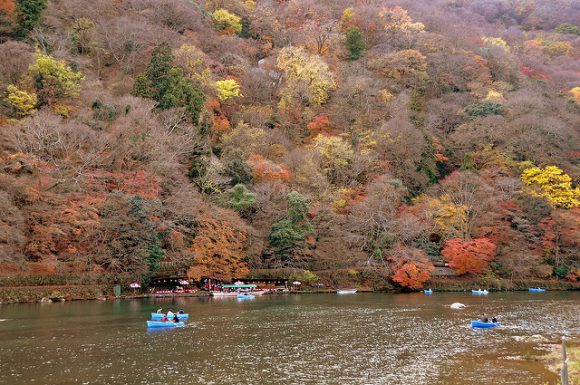 (Photo credit: Marufish Follow)
Here is a tip for you.
– Purchase the tickets beforehand online (available before a month).
– To get on the train for sure, you may want to apply a day tour through travel agency (it costs extra but it would be worth).
Even if you don't get the ticket for the train, no worries, another must-see spot in Arashiyama is the river with a bright red Arashiyama mountains in the background.
Website: Arashiyama Romantic Train
Lastly
How is it? There are more autumn leaf spots in Kyoto though let's call it a day. Perhaps another time. If you are planning of visiting Kyoto in November, trains are jam packed on the weekends. Even highway gets very crowded. Better be early like we normally do. There are also many places for seeing autumn leaves over the country. I would like to share how it is like in other cities as well. Stay tuned.
See you around!
You might be also interested in these
One of The Three Scenic Views in Japan: Amanohashidate
Taste Kyoto Wine at Amanohashidate Winery
Accommodation in Kyoto: Kyomachiya Ryokan Sakura Honganji