Gelato Treat at Matsuda Dairy Farm, Okayama City
Konnichiwa! It's Mrs. Wada on duty. How's your week so far? Take some time to look at the view and hope it helps you to refresh your mind.
The photo above is taken in Matsuda Farm, a dairy farm located nearby Okayama Airport. Just recently, I accompanied Mr. Wada to renew his driver's license. After the renewal, we decided to check out this farm and its gelato.
By the way, this is the driver's license center in Okayama City. I'm not only amazed by its building but also with how organized the process in there.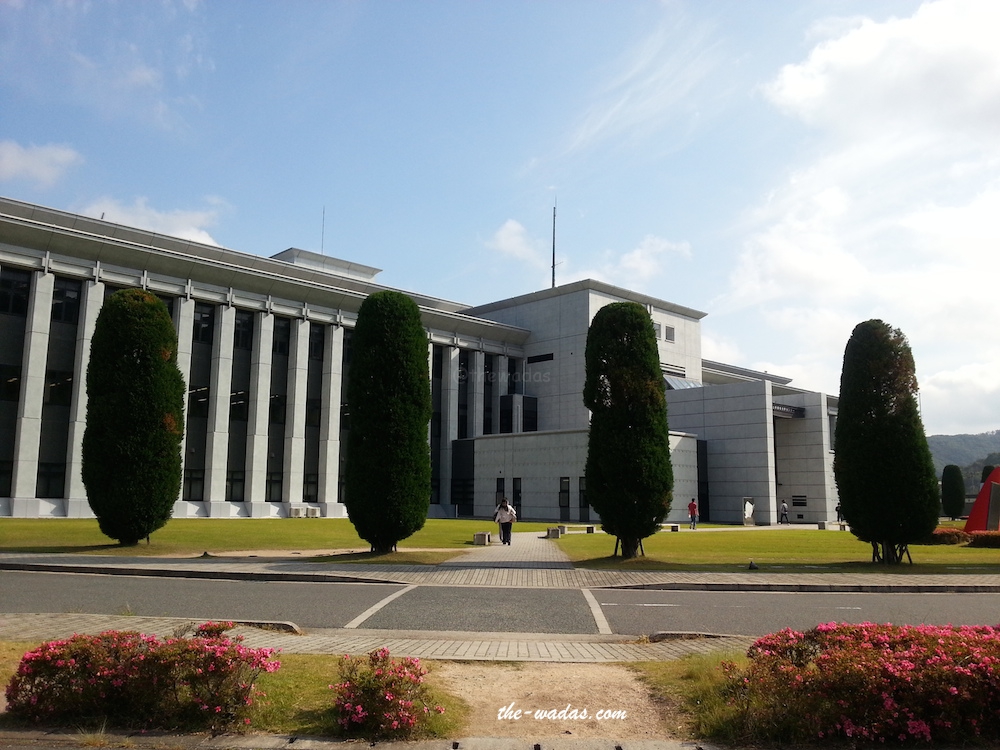 Matsuda Dairy Farm, Okayama
I often see gelato in cups from Matsuda Farm sold in different souvenir shops in Okayama. And finally, I've seen the place where those gelato products are coming from.
From the center, we followed the Route towards Okayama Airport. I searched the directions on Google Map beforehand, so it should be alright without internet connection. That's what I thought until we encountered this road.
From Okayama Driver's License Center to Matsuda Dairy Farm
After more than 10 minutes of rough and narrow road, filled with black butterflies, we survived passing through the hill and finally got a view of the dairy farm from afar. What a relief.
Tip: Do not use the road that passes through Okayama Kinryo Country Club. From Okayama Airport, follow Route 61 until you see a sign of Matsuda Dairy Farm (of the left side).
We went up all the way to the parking area where right next to it is a souvenir shop with a terrace.
Inside the Souvenir Shop
We immediately went inside the shop and bought gelato.
Here's their gelato line-up. Bottom row from left side: kinako (soy bean powder), matcha, milk, cookies & cream, ichigo (strawberry) milk, cream cheese, Italian chocolate, and many more. You can choose different servings, cup or cone in single, double or triple scoops.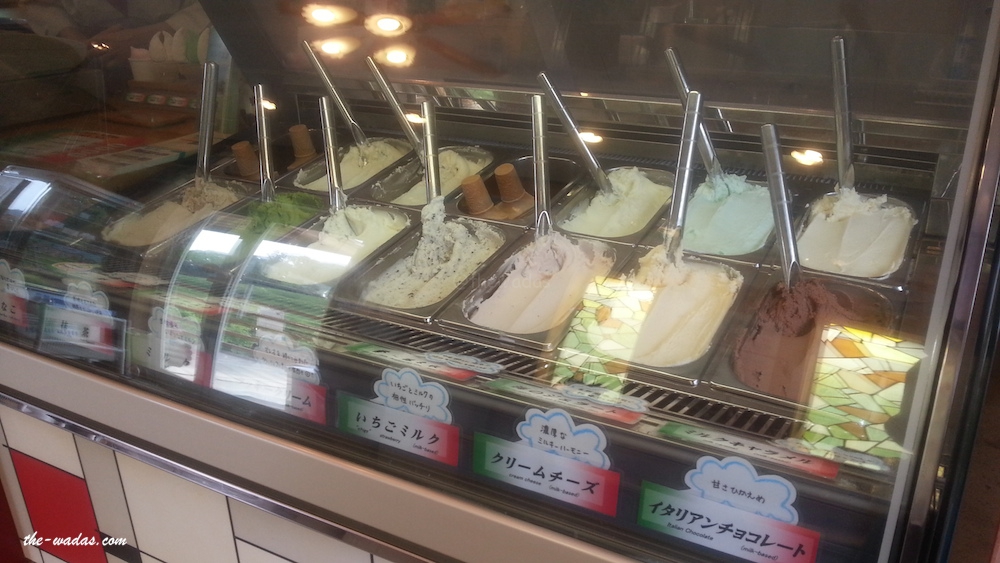 Their gelato is made of freshly drawn cow's milk every morning. You can have your gelato at their terrace while enjoying the view of the farm right in front.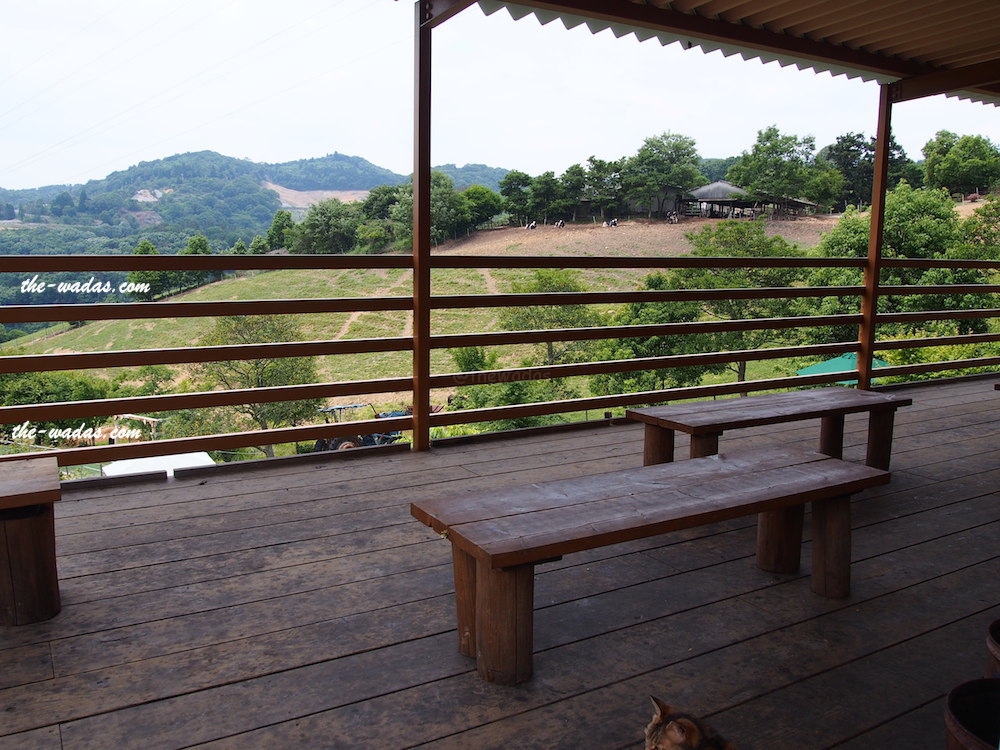 We were able to see and interact with cats, goats, rabbits, ducks, pony, roasters, peafowls, and more cows at close distance.
Surroundings of Matsuda Dairy Farm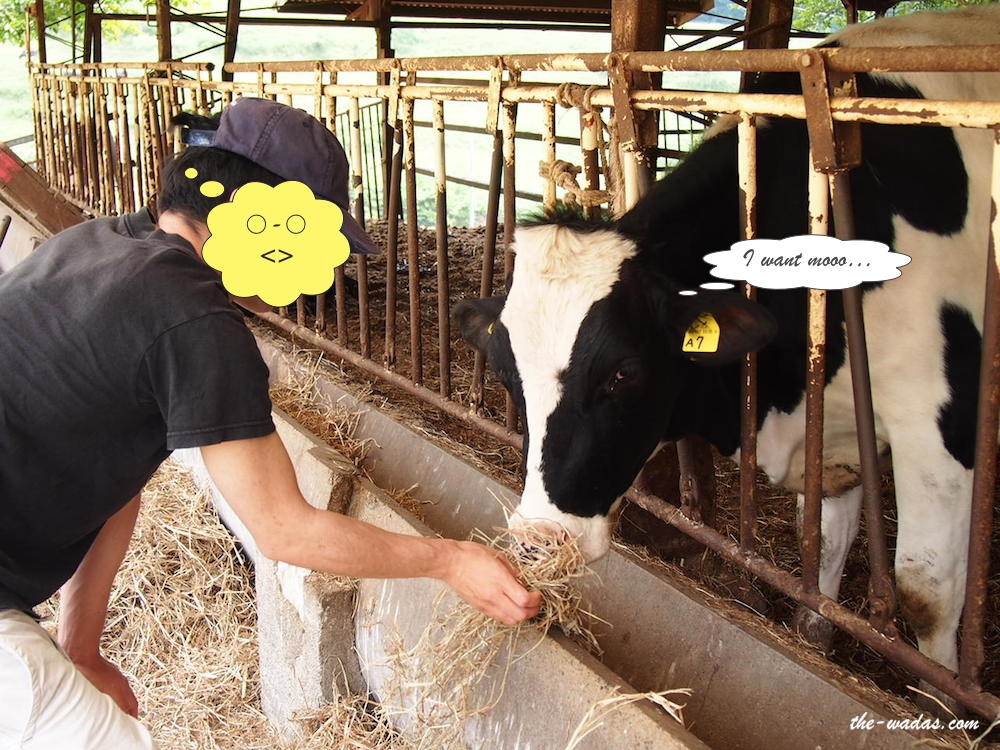 The staffs that I only saw were the ones stationed in the souvenir shop. We were free to roam around the area. It was a perfect weather for a perfect view.
Matsuda (Dairy) Farm Information
Business Hours: 10:00 – 18:00
Holidays: Every Thursdays in January and February
Website: http://www.matsuda-farm.jp/, area map, online shop
Products:  Gelato from 320 yen, pudding, souvenir items such as animal stuff toys and other handy crafts.
Address: 2987-119 Mitsukouchi, Kita Ward, Okayama, Okayama Prefecture 709-2123
Direction (By car):
It's nice to visit this kind of place once in awhile, so relaxing and stress-relieving. When was the last time you visited a dairy farm? Is there one nearby your place? It would be nice to actually see where the products, which you enjoyed, are coming from. Share us your experience!
If you have extra time, you can also check out the Kibitsu Shrine before going back to Okayama Station.
Ajisai Festival at Kibitsu Shrine, Okayama – The Wadas On Duty