How To Make Perfect Hard-Boiled Eggs With 2 Tbsps. of Water
Hi guys! Mrs. Wada is back to duty. I'm about to leave for my mission now but I haven't eaten anything yet. I checked the fridge and there are only eggs left! Alright, I'll make scrambled eggs then. What?! No cooking oil too? Geez, I guess I'll just boil it…
Talking about boiling an egg, I remembered the episode in "Tameshite Gatten" TV show on how to make perfect hard-boiled eggs with only 2 tablespoons of water. I should try that. Join me!
What we need…
What we need are the following:
– 2 tablespoons of water
– a fry pan (specifically made of iron) with cover
– eggs (up to 5 pieces, in room temperature)
– timer (optional)
It's cooking time…
Ready? Here's how to do it.
1. Place the eggs into the fry pan, separated from each other and add the water. Don't turn on the heat yet.
(Since I just got my eggs directly out from the fridge, I'll add extra two tablespoons of water.)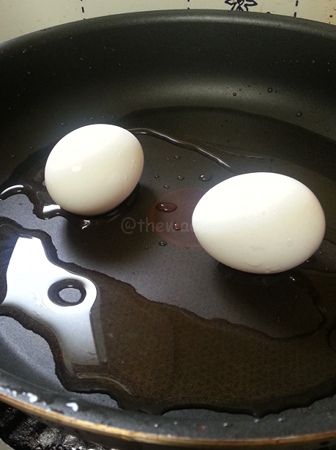 2. Cover the fry pan. Turn on the heat and leave it to steam for 2 minutes on high level and another 3 minutes on low.
– Use a see-through cover to check the condition inside easily.
(Make sure to keep an eye on it. If water runs out, immediately turn off the heat without adding water.)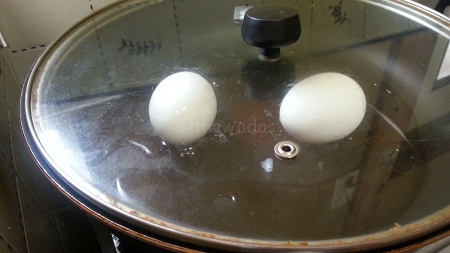 3. After 5 minutes, turn off the heat and leave the fry pan covered for another 9 minutes.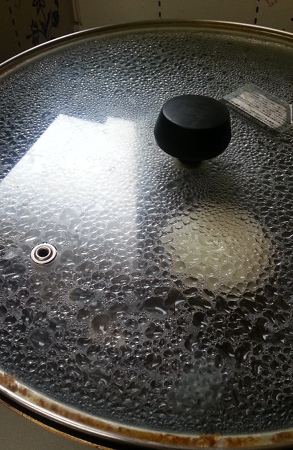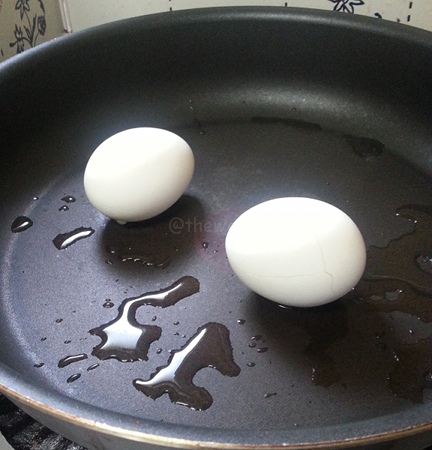 (..and after.)
5. Peel the eggs and ready to eat!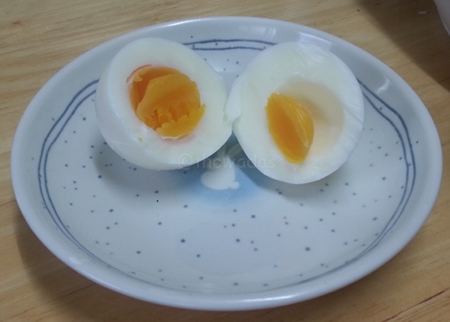 Well-cooked but not dry, perfect! Oops! I'm running out of time, I have to go now! One last thing though, I'll leave you another tip.
How to peel off the egg shell easily
To peel off the shell easily, make a small crack at the bottom (not the pointed one) of the egg before cooking. The small crack will let the carbon dioxide out from inside the egg. CO2 inside causes the white egg to expand and stick to the shell, making it harder to peel.