Top Japanese Rain Songs
Howdy? It's Mr. Wada back on duty. Rainy season goes through June to July in Japan. Oh, don't get so depressed. I got you some Japanese rain songs to enjoy such a wet day.
Seasonal songs
Spring
10 Popular Japanese Sakura Songs
Top Japanese Spring Songs
New Japanese Graduation Songs
11 Classic Japanese Graduation Songs
Top Japanese Rain Songs
Summer
Popular Japanese Summer Songs
Winter
Top 5 Popular Japanese Christmas Songs
Top 5 Popular Japanese Christmas Songs part 2
Top Japanese Rain Songs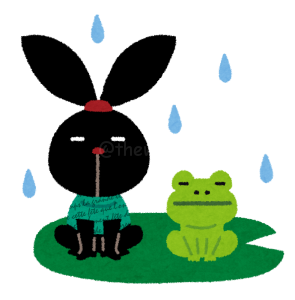 Ame no Bojo (雨の慕情) by Aki Yashiro
Year released: 1980
One of hit songs of a popular Enka singer. A broken-heart song, I think.
Rainy Blue(レイニーブルー) by Hideaki Tokunaga
Year released: 1986
A hit song from the mid 80's. His high-tone voice and the melody light up a dark sky..
Rain by Motohiro Hata
Year released: 1988 (original)
This is a cover song originally made in the late 80's. This cover was used in a popular animation film called The Garden of Words (by the directer who made Kimi No Na Wa (Your Name)). Its sentimental melody fits the movie quite well.
ENDLESS RAIN by X JAPAN
Year released: 1989
X JAPAN is a popular rock band from the 90's. This song was one of their early songs. Unlikely their heavy metal make-up and outfit, this song is very gentle and melodious. Still loved by many fans.
Hajimari wa Itsumo Ame(はじまりはいつも雨) by ASKA
Year released: 1991
He's a member of CHAGE & ASKA, a popular duo from 80's through 90's. This song has been a popular rain song for a long time.
Squall by Eiko Matsumoto
Year released: 1999
Kind of one-hit wonder from the late 90's. However, still popular at karaoke.
Nijiiro(にじいろ) by Ayaka
Year released: 2015
It was a theme song of one of dramas on NHK in 2015. As its title Niji (rainbow) Iro (color), it may be a good song for wising for a rainbow after the rain!
Amefuri(あめふり)
Year released:1925
One of the popular kids songs. Kinda of let-it-rain song.
Katatsumuri(かたつむり)
Year released:1911
The snail song. A fun factor on a rainy day is we have more chances to witness snails!
A Chorus of Frogs(かえるの合唱)
Year released: Unknown
I've read that this song is based on a German song though. Well, can't avoid it when it comes to frogs.
Lastly
How do you find them? How do you spend on a rainy day? Share your thoughts with us in the comment!
See you around!