Grabbing a coffee in Japan
Hi, it's Mr. Wada on duty. This time I will talk about how I normally relax and rest. Everyone needs to relieve stress from work, school, etc. I'm not an exception at all. I, myself, is neither an outdoor nor an indoor person but I spend quite some time at cafes on the weekends. So, if I'm asked to suggest places for grabbing a coffee and chilling out in Japan, it would be the following:
1. Starbucks
Well, needless to say, the world's famous coffee chain. You can grab the same drinks and foods at any locations over the world. If you would like to feel the same as ones in your country, perhaps this is where you should go to.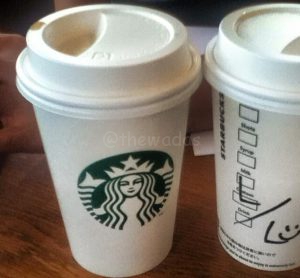 2. Family restaurants
It's like cafe version of convenience store. It's not a name, though in general people call those places "Family restaurant" or "Fami-res" because it is popular for teens to adults. Big franchises are Jonathan, Gusto, Joyfull, Saizeria, etc. What's good about them is they are mostly open 24 hours and offer free refill of drinks called "DRINK BAR". It might be called differently at some stores but people in Japan would understand when you say DRINK BAR. It costs 200-400 yen. Usually, you can get discount when you order it together with food menu. The drinks that you can get are teas, coffees, juices, etc. Any of them is not super but it's good enough for chatting with friends.
Note: In big cities like Tokyo, duration of stay is often limited like up to 2 hours. You should make sure before getting a seat.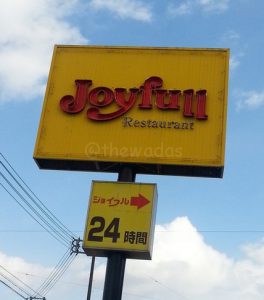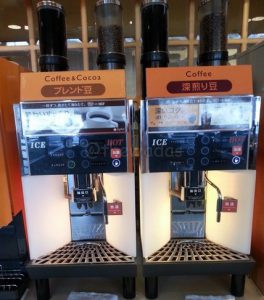 3. Tully's, Doutor coffee shops
They are popular Japanese franchises. They are pretty much ordinary, I'd say. In the afternoon, they offer TEA SET (a drink with a dessert) at reasonable price. Drop in when you crave for sweets!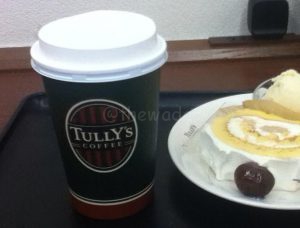 4. Mister Donut
It is a donut chain like Dunkin Donuts or Tim Hortons in North America. Donuts are good (Don't trust me much about donuts. I'm not picky for donuts). I like its service for eat-in. Order a cafe latte (400yen) or coffee (300yen), then you get free refill. Feel free to ask employees for refill. You don't need to be shy or hesitate. Just say hi and show your empty cup. They will come to you with fresh drip coffee.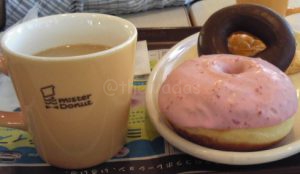 5. Home
Nothing can be homier than home itself! Brew your own coffee and grab home-made stuff. I enjoy atmosphere of cafes, so I rather kick my ass up and hang out!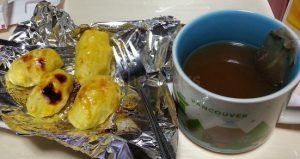 There are also private cafes but because of the increase number of franchise ones, there have been less nowadays. It's also nice to explore for your new hangouts, don't you think?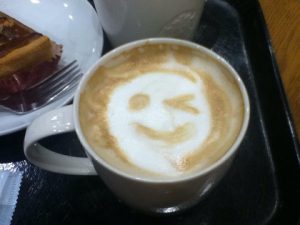 Hmm. Better go have a sip (getting thirsty). See you around!
References:
Starbucks Coffee Japan
Joyfull (in Japanese only)
Tully's (in Japanese only)
Doutor (in Japanese only)
Mister Donut (in Japanese only)
Related links